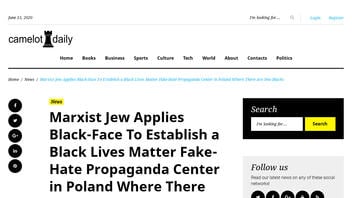 Did a Jewish journalist paint his face black to establish a Black Lives Matter center in Poland? No, that's not true: Jacek Hugo-Bader, a well-known Polish journalist, did appear in blackface at a Warsaw parade in 2016 as part of a reporting project on street reactions to a black person. He did not attempt to establish a Black Lives Matter movement in Poland.
The claim appeared in an article (archived here) published by Camelot Daily News under the title "Marxist Jew Applies Black-Face To Establish a Black Lives Matter Fake-Hate Propaganda Center in Poland Where There Are Few Blacks." It opened:
Many of you have heard of Jacek Hugo Bader. The Marxist Jewish journalist who applied black-face to his putridly ugly mug so that he could set up a Black Lives matter campaign in Poland-where there are few black people.
This is how the post appeared on Twitter at the time of writing:
June 15, 2020
The following collage appeared atop the article:
The photos, in fact, show Hugo-Bader in blackface. But they are several years old.
The journalist appeared in blackface at a Polish Independence Day celebration on November 11, 2016. He wrote about his experience.
Here is another reporter's tweet about Hugo-Bader from 2016, which translates to English as his blackface appearance at the celebration would provoke the right wing :
#Polska. To Jacka Hugo-Badera zwyzywali na Marszu Niepodległości. Już widzę oburzenie prawicy, że prowokacja Gazety Wyborczej ;) pic.twitter.com/gFUivLs41W

-- Thomas Orchowski (@OrchowskiThomas) November 17, 2016
Hugo-Bader is a journalist in Poland, perhaps known for his writings about Russia and the former Soviet Union. He is the author of several books, including "White Fever: A Journey to the Frozen Heart of Siberia" and "Kolyma Diaries: A Journey into Russia's Haunted Hinterland."