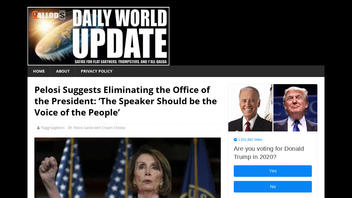 Did Speaker Nancy Pelosi suggest eliminating the office of the president? No, that's not true: This is a fictional piece written by a known satire website. These stories are often re-published by other sites without the satire label. Pelosi did not say the office of the president should be eliminated.
The claim originated from an article (archived here) where it was published by Daily World Update on December 4th, 2019 under the title "Pelosi Suggests Eliminating the Office of the President: 'The Speaker Should be the Voice of the People'". It opened:
Nancy Pelosi isn't even hiding her intention to take over the government in a coup de'tat that would make Fidel Castro jealous. In a statement to donors at an exclusive dinner for Hollywood elites, Pelosi said:

"We shouldn't be hampered by the executive branch at all. We've learned that giving one person that much power can be disastrous.

"Trump will make it easy to achieve our goal by 2024, which is to eliminate the Office of the President and make the Speaker of the House the Supreme Leader of the country.

"I am, after all, the voice of the people."
Despite the outrageous nature of the claim, people have shared it as truth.
The site comes with a clear satire disclaimer at the bottom of each article:
sat·ire ~ˈsaˌtī(ə)r
noun
the use of humor, irony, exaggeration, OR ridicule to expose and criticize people's stupidity or vices, particularly in the context of contemporary politics and other topical issues.
If you disagree with the definition of satire or have decided it is synonymous with "comedy," you should really just move along.
The owner and main writer of the site is self-professed liberal troll Christopher Blair, a man from Maine who has made it his full time job to trick conservatives and Trump supporters into liking and sharing his articles. He runs several other websites, including wearethellod.com, bustatroll.org or bebest.website. Sometimes he is also known under his nickname "Busta Troll". A second man working on the sites is John Prager as revealed in this earlier story we wrote.
Articles from Blair's sites frequently get copied by "real" fake news sites who often omit the satire disclaimer and any other hints the stories are fake. Blair has tried to get these sites shut down in the past but new ones keep cropping up.
Blair and his operation were profiled by the Washington Post on November 17, 2018 by Eli Saslow:
November 17 The only light in the house came from the glow of three computer monitors, and Christopher Blair, 46, sat down at a keyboard and started to type. His wife had left for work and his children were on their way to school, but waiting online was his other community, an unreality where nothing was exactly as it seemed.
If you are interested in learning more about Blair and the history of his sites, here is something to get you started:
STORY UPDATED: check for updates below. Yesterday Eli Saslow at the Washington Post wrote a fantastic article about Christopher Blair, a man from Maine who has been trolling conservatives and Trump supporters online for years and occasionally even made a living out of it.
If you see one of his stories on a site that does not contain a satire disclaimer, assume it is fake news. If you do see the satire disclaimer it is of course also fake news.
NewsGuard, a company that uses trained journalist to rank the reliability of websites, describes dailyworldupdate.us as:
A news site that publishes false stories and hoaxes that are often mistaken for real news. The site is part of a network run by hoax perpetrator Christopher Blair.
According to NewsGuard the site does not maintain basic standards of accuracy and accountability. Read their full assessment here.