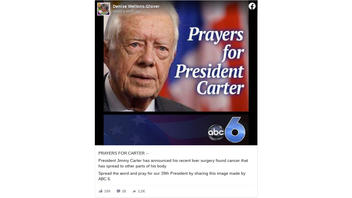 Did former President Jimmy Carter announce that recent liver surgery found cancer that has spread to other parts of his body? No, this is not a current event: Carter did make such an announcement but it was nearly five years ago, in August of 2015, and he subsequently recovered after treatment.
A prayer request for Carter that originated (here) as an August 13, 2015, post from the Columbus, Ohio, news station ABC 6 has gone back into circulation several times over the years, most recently on June 2, 2020. A Facebook post (archived here) was published by Denise Wellons-Glover. It opened:
PRAYERS FOR CARTER --

President Jimmy Carter has announced his recent liver surgery found cancer that has spread to other parts of his body.

Spread the word and pray for our 39th President by sharing this image made by ABC 6.
This is what the post looked like on Facebook at the time of writing:
(Source: Facebook screenshot taken on Thu Jun 11 17:44:39 2020 UTC)

Lead Stories reached out to the Carter Center on June 11, 2020, and was told that President Carter did in fact recover from the cancer that was mentioned in 2015. After the announcement was made in 2015 and within months of starting a relatively new type of medication to treat the cancer, the tumors went away. By March of 2016, President Carter announced that he was able to stop treatment.
This March 7, 2016 ABC News story (here) titled, "The Remarkable Cancer Treatment That Helped Jimmy Carter Combat Brain Tumor," includes a video clip of President Carter telling the congregation of his church that at his last doctor visit they didn't find any cancer and that he appreciates everyone's prayers.
Carter did make a recent announcement but it was not about his health. The subject was racial discrimination. This statement was released on June 3, 2020. The full statement is on the website of the Carter Center (here). It says in part:
Since leaving the White House in 1981, Rosalynn and I have strived to advance human rights in countries around the world. In this quest, we have seen that silence can be as deadly as violence. People of power, privilege, and moral conscience must stand up and say "no more" to a racially discriminatory police and justice system, immoral economic disparities between whites and blacks, and government actions that undermine our unified democracy. We are responsible for creating a world of peace and equality for ourselves and future generations.