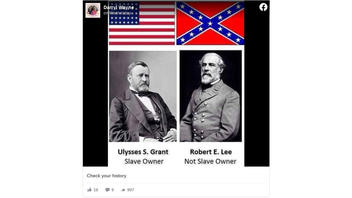 Is it true that Robert E. Lee, commander of the Confederate States Army during the American Civil War, was not a slave owner, while Ulysses S. Grant, who led the Union Army, was? No, that's not true: General Lee owned dozens of slaves and controlled many more as the trustee of his father-in-law's estate, which he freed during the war. General Grant did own at least one slave, which he freed before the war began.
The claim appeared in a meme, including this Facebook post (archived here) shared on June 10, 2020, with the title "Check your history." It features side-by-side images of both men, beneath different flags (Grant with the American flag; Lee with the Confederate flag):
Ulysses S. Grant ........Robert E. Lee

Slave Owner ..............Not Slave Owner
This is what the post looked like on Facebook at the time of writing:
Lee, in fact, owned several hundred enslaved workers. But it's also true that Ulysses S. Grant, who served as the commanding general of the United States Army and then became the nation's 18th president, owned at least one slave, whom he freed before the Civil War.
The truth about these opposing military leaders, including who owned slaves and who didn't, has been chronicled by historians and experts. In companion pieces under the headline "Myths & Misunderstandings," The American Civil War Museum took these claims about slave ownership head on.
Here's how the piece about Lee began:
The claim that Robert E. Lee did not own slaves is often paired with the claim that Ulysses S. Grant did own slaves during the Civil War. Both claims serve to distance the Confederacy from its core justification and suggest United States hypocrisy on the matter of race. Both claims are false.
The museum article goes on to describe how Lee inherited three or four families of slaves from his mother upon her death in 1829. And then, after his father-in-law died in 1859, "Lee assumed command of 189 enslaved people." His father-in-law put in his will that these enslaved individuals should be set free "within five years," the article says, but Lee "petitioned state courts to extend his control of enslaved people" -- a request that was denied, prompting Lee to free them "three days before the Emancipation Proclamation went into effect." The article also references testimony from Wesley Norris, who was born into slavery on the plantation of Lee's father-in-law and ran away with several others while under Lee's ownership, only to be brutally beaten under Lee's command upon his capture and return.
Norris described what happened him and the others who were captured:
[Lee] told us he would teach us a lesson we never would forget; he then ordered us to the barn, where, in his presence, we were tied firmly to posts by a Mr. Gwin, our overseer, who was ordered by Gen. Lee to strip us to the waist and give us fifty lashes each, excepting my sister, who received but twenty; we were accordingly stripped to the skin by the overseer, who, however, had sufficient humanity to decline whipping us; accordingly Dick Williams, a county constable, was called in, who gave us the number of lashes ordered; Gen. Lee, in the meantime, stood by, and frequently enjoined Williams to lay it on well, an injunction which he did not fail to heed; not satisfied with simply lacerating our naked flesh, Gen. Lee then ordered the overseer to thoroughly wash our backs with brine, which was done.
The article ends with this summary:
Robert E. Lee owned slaves. He managed even more. When defied, he did not hesitate to use violence typical of the institution of slavery, the cornerstone of the cause for which he chose to fight.
The story about Grant is addressed separately by The American Civil War Museum and begins this way:
Did Ulysses S. Grant own slaves during the Civil War?

No, but it will come as a surprise to many people, that Grant did in fact own a man named William Jones for about a year on the eve of the Civil War. In 1859, Grant either bought or was given the 35-year-old Jones, who was in Grant's service until he freed him before the start of the War.
Grant's views on slavery were complicated, according to the museum's write-up. His father, Jesse Grant, was an abolitionist in Ohio, but the younger Grant was "more ambivalent." He married into a St. Louis, Missouri, slaveholding family in 1848. In 1854, after resigning from the military, Grant first tried his hand at farming, during which time he "worked alongside" the enslaved laborers owned by his father-in-law, Frederick Dent. After the death of his mother-in-law, he managed the farm owned by his in-laws. The museum article provides a glimpse into what it was like for Grant to be on that farm:
Novelist Hamlin Garland, an early biographer who spoke with Grant's Missouri neighbors, wrote,

"The use of slaves on the farm...was a source of irritation and shame to Grant. Jefferson Sapington told me that he and Grant used to work in the fields with the blacks. He said with glee, 'Grant was helpless when it came to making slaves work,' and Mrs. Boggs corroborated this. 'He was no hand to manage negroes,' she said. 'He couldn't force them to do anything. He wouldn't whip them. He was too gentle and good tempered and besides he was not a slavery man.'"
Even if he wasn't a "slavery man," he did briefly own a man named William Jones, whom he set free in March 1959. The manumission document, as shared by the museum, read:
I Ulysses S Grant of the City and County of St. Louis in the State of Missouri, for diverse good and valuable considerations me hereunto moving, do hereby emancipate and set free from Slavery my negro man William, sometimes called William Jones(Jones)of Mullatto complexion, aged about thirty-five years, and about five feet seven inches in height and being the same slave purchased by me of Frederick Dent - And I do hereby manumit, emancipate & set free said William from slavery forever.
After the Union troops were attacked at Fort Sumter, South Carolina, starting the Civil War on April 12, 1861, Grant rejoined the military. He wrote to his father, as reported by the museum:
My inclination is to whip the rebellion into submission, preserving all Constitutional rights. If it cannot be whipped any other way than through a war against slavery, let it come to that legitimately. If it is necessary that slavery should fall that the Republic may continue its existence, let slavery go.
With the Emancipation Proclamation, which took effect January 1, 1863 and which "allowed for the raising of black troops," Grant showed a further evolution in his thinking, the museum article shows. He wrote in a letter to President Abraham Lincoln, "by arming the negro we have added a powerful ally. They will make good soldiers and taking them from the enemy weaken him in the same proportion they strengthen us."
The article goes on to explain how Grant's views further developed:
Grant may have been initially ambivalent to the institution of slavery but his wartime experiences showed him that it was morally and practically indefensible and that African Americans would not only make strong allies in defeating the Confederates, but respected citizens in the reunited nation to follow. As the 18th President of the reunited nation, he was an advocate and defender of the freedmen's newly acquired rights, earning the admiration of Frederick Douglas, who believed, "To Grant more than any other man the Negro owes his enfranchisement."
Misinformation about Grant, the myth that he owned slaves during the Civil War, is perpetuated -- much like the false claim that Lee did not own slaves -- "to obscure the historical record that the overwhelming reason given by southerners for seceding from the Union was to protect the institution of slavery, an institution that had expanded beyond southern borders," The American Civil War Museum concluded. "That the United States initial war aim was to preserve the Union and only later became a war of liberation for enslaved people does not contradict that fact."