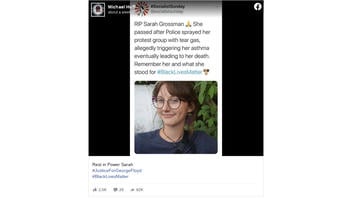 Did Sarah Grossman die after police sprayed her protest group with tear gas, which triggered her asthma and led to her death? No, there's no evidence that happened: The 22-year-old woman had not been diagnosed with asthma and there is no evidence her sudden death was connected to gas launched by police during May 28, 2020, protest in Columbus, Ohio, according to her family. Final autopsy results could be eight weeks away, the coroner's office told Lead Stories.
The claim appeared as a post (archived here) shared on Facebook on June 6, 2020, under the title "Rest in Power Sarah." It opened:
RIP Sarah Grossman She passed after police sprayed her protest group with tear gas, allegedly triggering her asthma eventually leading to her death. Remember her and what she stood for #BlackLivesMatter
This is what the post looked like on Facebook at the time of writing:
(Source: Facebook screenshot taken on Mon Jun 15 18:54:02 2020 UTC)
Grossman attended a Black Lives Matter protest in Columbus, Ohio on May 28, 2020, where police used tear gas on the crowd. She died on May 30 after her family took her to the hospital. The Associated Press reported on the protest rally, which followed the death of George Floyd, turning violent.
The claim that the gas and her death were connected may have begun after Sarah's sister Jessa posted on Instagram that suggested it. The post has since edited the post to remove a mention of tear gas being responsible for her death. Multiple news outlets, including the NY Post, reported that her sister claimed a respiratory condition could have been exacerbated by the tear gas.

The Dayton Daily News reported that her preliminary autopsy report included a statement from her father that she attended the protest where she was "exposed to tear gas and pepper spray" that was "discharged by police as part of crowd control."
Grossman's family released the statement about her death and confirmed that pepper spray was used at the Black Lives Matter protest she attended but emphasized that her cause of death was not yet known.
"We are devastated by the sudden and tragic loss of our daughter Sarah Grossman. Due to media speculation regarding her death we felt it necessary to make a brief statement at this time. Sarah did attend a rally in Columbus on May 28, 2020, where she was exposed to pepper spray. Autopsy and toxicology reports are not complete and there is no evidence at this time that pepper spray caused her death," the family told the Dayton Daily News, which you can read here.

The family noted that she did NOT have asthma as the meme claims.

"Although all reports are not final, we do know from preliminary toxicology reports that there was no evidence of any accidental or intentional drug overdose as was apparently reported and suspected by an emergency room nurse. Sarah had no known peanut allergy or asthma as speculated. Therefore at this time, the cause of her death remains unknown, and we will look to the medical examiner's findings in determining cause of death."
The Montgomery County, Ohio, coroner's office told Lead Stories the investigation into Grossman's death is expected to take eight weeks and there were no update results as of June 15, 2020.
Columbus city spokeswoman Robin Davis told the Dayton Daily News that gasses were used on the May 28 protest crowd.
Police did use gasses to disperse crowds that night. We haven't received an official complaint, nor have investigators in Montgomery County talked to (Columbus police). Again, we encourage anyone who was with her at the protest or on May 29 or 30 before she went to Sycamore to talk to Montgomery County Sheriff's Office or (Columbus police).
On June 15, 2020, Davis gave Lead Stories an update on the case via email:
We have not been contacted by Miamisburg Police. The family said there is no evidence her death was caused by her being exposed to pepper spray..
Lead Stories reached out to the Columbus Police Department and will update the story if a response is received.