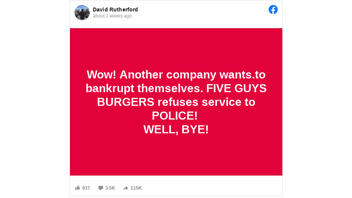 Does Five Guys Burgers refuse to serve police officers? No, that's not true: The fast food chain fired and suspended workers at an Alabama store who refused service in one incident on July 7, 2020, because they violated the company's policy by not serving the officers. The swift action proved the company does not refuse service to police officers, and any employee who doesn't comply will be off the job.
The claim appeared as a meme in a post (archived here) published on Facebook on July 8, 2020. The meme read:
Wow! Another company wants.to bankrupt themselves. FIVE GUYS BURGERS refuses service to POLICE!




WELL, BYE!
This is what the post looked like on Facebook at the time of writing:
(Source: Facebook screenshot taken on Tue Jul 21 13:59:32 2020 UTC)

The news of what happened at a Five Guys location in Daphne, Alabama, on Tuesday, July 7, traveled quickly on social media and was reported by Mobile, Alabama, TV station Fox10 on July 8, 2020. The article, "Daphne Police release statement on incident at Five Guys," (here)(archived here) includes video of the station's local reporter on location outside the store as well as statements released from the Daphne Police Department, the mayor of Daphne, and a Five Guys corporate spokesperson.
Usatoday.com wrote an article (here)(archived here) on July 10, 2020, titled, "Five Guys says employees who refused to serve police have been fired, suspended." The article explains:
A group of Five Guys employees who refused to serve members of an Alabama police force have been fired or suspended.

The incident took place on Tuesday when three officers of the Daphne Police Department entered a Five Guys restaurant located in a shopping center, according to a local media report detailing the allegations.

The officers say they returned to their vehicles to retrieve masks to comply with the location's mask requirement, FOX 10 reported. Once back inside, they allege multiple employees turned their backs to them and refused to serve them.
The Daphne, Alabama, Five Guys posted this statement on its Facebook page (here)(archived here) on July 10, 2020:
Five Guys and the Daphne, AL franchise want to thank the Daphne Police Department for their support in working together toward a resolution. The actions the Daphne, AL franchise have taken include termination and suspension of the employees involved. The store has temporarily closed for further education and customer service training with a representative from the Daphne Police Department and will reopen at 4PM today, July 10th. As we uphold our commitment to fair, respectful, and equal treatment for all customers, please know that the actions and sentiments of a few employees in Daphne, AL do not represent Five Guys or the local franchisee.