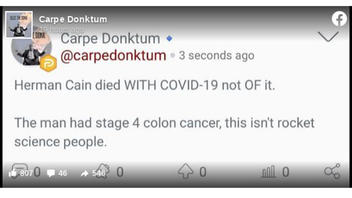 Did Stage 4 colon cancer cause Herman Cain's death on July 30, 2020, and not COVID-19? No, that's not true: The 2012 Republican presidential candidate and business executive did have cancer years earlier, but he beat it. He died after testing positive for coronavirus and being hospitalized for nearly a month, according to HermanCain.com. The editor of Cain's website confirmed in an email message to Lead Stories: "Herman died of COVID-19. 100 percent. Nothing else."
The bogus claim appeared as a meme in posts like this one (archived here) which published on Facebook on July 30, 2020, under the title "Herman Cain died WITH COVID-19 not OF it." The post opened:
Herman Cain died WITH COVID-19 not OF it.

The man had stage 4 colon cancer, this isn't rocket science people.
This is what the post looked like on Facebook at the time of writing:
Plenty other posts echoed this coronavirus-killed-him skeptism and spread similar misinformation.
Another post read:
Herman Cain RIP
He had Stage 4 Colon and Liver Cancer, yet he is declared to have died from COVID 19?
IMAGINE THAT!
This is how that post appeared on social media:
"Why do they leave this out?" wrote another person on Facebook, before posting a meme that read:
You're hearing Herman Cain died due to covid infection. What you won't hear is, he had stage 4 COLON cancer.
This is how that post appeared:
And yet another person wrote this in his post: "Media forgot to mention Herman Cain had Stage-4 colon cancer. Everything COVID?"
Here's what that post looked like:
The day it was announced on Cain's official Twitter account that he had tested positive, the fact that he had beaten Stage 4 cancer was highlighted in the attached memo, which posted on July 2, 2020, and read:
On Monday, June 29, Herman Cain was informed that he had tested positive for COVID-19.

By Wednesday, July 1, Mr. Cain had developed symptoms serious enough that he required hospitalization.

He spent the past night in the hospital and as of today, Thursday, July 2, he is resting comfortably in an Atlanta-area hospital. Mr. Cain did not require a respirator, and he is awake and alert.

There is no way of knowing for sure how or where Mr. Cain contracted the coronavirus, but we do know he is a fighter who has beaten Stage 4 cancer. With God's help, we are confident he will make a quick and complete recovery, and will soon resume hosting The Herman Cain Show at HermanCain.com, and Herman Cain's America on NewsmaxTV.

Please join with us in praying for Mr. Cain, and for everyone who has contracted the coronavirus -- as well as their families.
Here's how the memo was introduced and appeared:
We are sorry to announce that Herman Cain has tested positive for COVID-19, and is currently receiving treatment in an Atlanta-area hospital.

Please keep him, and all who are battling this virus, in your prayers.

Our full statement appears below. Updates to follow. pic.twitter.com/lDRW7Rla4e

-- Herman Cain (@THEHermanCain) July 2, 2020
The longtime editor of HermanCain.com, Dan Calabrese, shared news of Cain's passing early on the morning of July 30th in an article titled, "We're heartbroken, and the world is poorer: Herman Cain has gone to be with the Lord."
The article began:
You're never ready for the kind of news we are grappling with this morning. But we have no choice but to seek and find God's strength and comfort to deal with it.
Calabrese went on in the piece to describe what took the life of Cain, whom he described as "our boss, our friend, like a father to so many of us." Here's what Calabrese wrote:
Let me deal with some of the particulars of the last few weeks. We knew when he was first hospitalized with COVID-19 that this was going to be a rough fight. He had trouble breathing and was taken to the hospital by ambulance. We all prayed that the initial meds they gave him would get his breathing back to normal, but it became clear pretty quickly that he was in for a battle.

We didn't release detailed updates on his condition to the public or to the media because neither his family nor we thought there was any reason for that. There were hopeful indicators, including a mere five days ago when doctors told us they thought he would eventually recover, although it wouldn't be quick. We were relieved to be told that, and passed on the news via Herman's social media. And yet we also felt real concern about the fact that he never quite seemed to get to the point where the doctors could advance him to the recovery phase.
Lead Stories reached out to Calabrese directly to make sure cancer played no role in the loss of his longtime friend and boss. Here's what Calabrese had to say in an emailed response:
Herman died of COVID-19. 100 percent. Nothing else.

I don't know where the cancer thing is coming from. He did survive Stage 4 colon cancer in 2006 but he's been cancer free for a very long time.

Thanks for checking with me so I would have the opportunity to knock that nonsense down.
As news reports came out about his death due to complications of coronavirus, plenty of outlets mentioned Cain's previous battle with cancer. This part of his life was far from ignored.
CNN's story announcing Cain's death, titled "Herman Cain dies from coronavirus," included this:
In 2006, Cain was given a 30% chance of survival from stage 4 colon cancer that had spread to his liver. He underwent chemotherapy and surgery to remove the cancer from his liver and was declared cancer-free in 2007.

He told CNN in a

2011 interview

that after beating cancer he felt he had to do "something bigger and bolder," leading him to decide to run for president.
Cain was diagnosed in 2006 with stage 4 colon cancer that metastasized to his liver and was given a 30 percent chance of survival. He successfully underwent chemotherapy and had been in remission since.
An in-depth video interview on Fox News about Cain's passing explored the cause of his death, and the sadness about the loss, further. It can be viewed here: