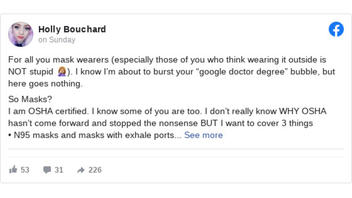 Is an "OSHA certified" Facebook poster whose job is listed as "Trollin' the Masses" correct in claiming that N95, surgical, and cloth masks don't slow the spread of COVID-19 and they may make you sick? No, that's not true: OSHA (the federal government's Occupational Safety and Health Administration) and the CDC (the Centers for Disease Control and Prevention) both recommend face coverings to prevent the spread of the novel coronavirus and they do not warn of health risks if worn properly.
The claim appeared in a post (archived here) shared on Facebook on July 12, 2020. It opened:
For all you mask wearers (especially those of you who think wearing it outside is NOT stupid 🤦🏼‍♀️). I know I'm about to burst your "google doctor degree" bubble, but here goes nothing.

So Masks?
I am OSHA certified. I know some of you are too. I don't really know WHY OSHA hasn't come forward and stopped the nonsense BUT I want to cover 3 things
• N95 masks and masks with exhale ports
• surgical masks
• filter or cloth masks

Okay, so upon further inspection, OSHA says some masks are okay and not okay in certain situations.
If you're working with fumes and aerosol chemicals and you give your employees the wrong masks and they get sick, you can be sued.
This is what the post looked like on Facebook at the time of writing:
(Source: Facebook screenshot taken on Thu Jul 16 20:09:13 2020 UTC)
The post is from Holly Bouchard (Xylo Eternity), who describes her job on her Facebook page as "Trollin' the Masses," and in her post as "OSHA certified."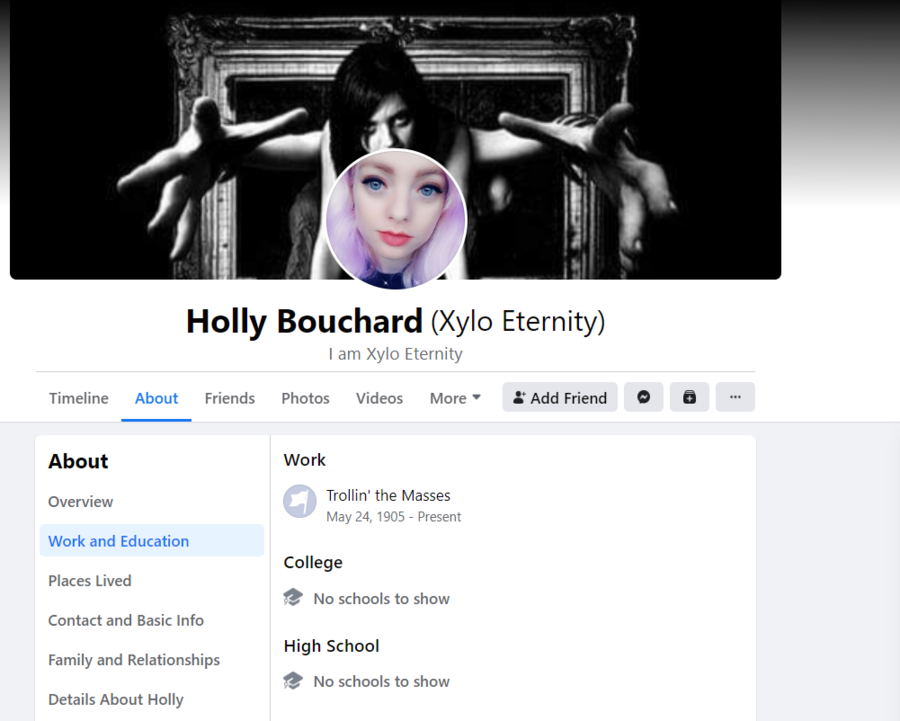 Being OSHA certified may be a better than have a "Google doctor degree," but it seems far short of bestowing expertise on face masks worn to protect against the spread of the novel coronavirus. You can get your OSHA card with 10 hours of online learning and $39. The training overview does not indicate an emphasis on face mask efficiency and safety:
The 10-hour training program is primarily intended for entry level workers. The 30-hour training program is intended to provide workers with some safety responsibility a greater depth and variety of training. All outreach training is intended to cover an overview of the hazards a worker may encounter on a job site. Training emphasizes hazard identification, avoidance, control and prevention, not OSHA standards.
OSHA standards apply to workplace environments, from hospitals to bars and restaurants. OSHA's standards do not govern what everyday people are doing on an everyday basis. Yet OSHA's own site recommends masks, among other measures, during the pandemic, which has claimed over 140,000 lives in the United States alone as of July 19:
Take steps to limit the spread of the individual's infectious respiratory secretions, including by providing them a facemask and asking them to wear it, if they can tolerate doing so. Note: A surgical mask on a patient or other sick person should not be confused with PPE for a worker; the surgical mask acts to contain potentially infectious respiratory secretions at the source (i.e., the person's nose and mouth).
OSHA follows CDC recommendations. Here is a screenshot of OSHA's recommendations on masks: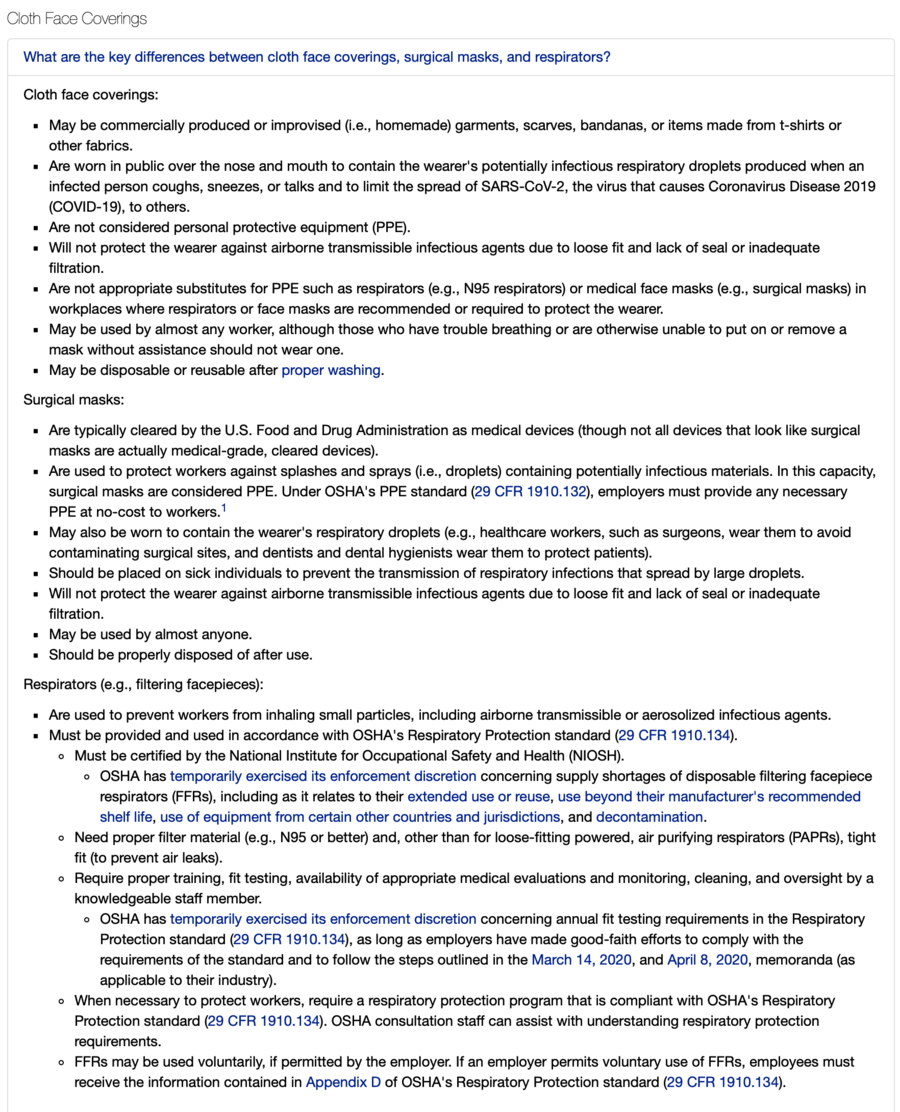 CDC Director Dr. Robert Redfield said in a recent interview that masks were essential to combatting the virus. Here is the CNBC coverage of the story, updated July 15, 2020:
The United States could get the coronavirus pandemic under control in one to two months if every American wore a mask, a top Centers for Disease Control and Prevention official said Tuesday.

"The time is now," Dr. Robert Redfield, director of the CDC, said during an interview with the Journal of the American Medical Association's Dr. Howard Bauchner. "I think if we could get everybody to wear a mask right now I think in four, six, eight weeks we could bring this epidemic under control."

Both the CDC and the World Health Organization now recommend that people wear masks as a way to slow the spread of the virus..."
And here is their video of the coverage:
On July 14, the CDC released a study about how two hair stylists with the novel coronavirus did not pass it on to their clients -- most likely due to their use of face masks. This study helped prompt the call by the center for leaders to mandate masks, which has happened in some states. A list was published by CNN on July 17 here.
In fact, recommendations for universal mask-wearing came as early as April in this international study. And more evidence comes from a report updated July 7 by DELVE -- Data Evaluation and Learning for Viral Epidemics -- in the UK, which says, "We are at a crucial juncture in the UK's response to the COVID-19 pandemic."
And there is this from the Mayo Clinic on July 17 about the efficacy of varying types of masks, which goes to the heart of the Facebook post:
Can face masks help slow the spread of the coronavirus (SARS-CoV-2) that causes COVID-19? Yes, face masks combined with other preventive measures, such as frequent hand-washing and social distancing, help slow the spread of the virus.

So why weren't face masks recommended at the start of the pandemic? At that time, experts didn't know the extent to which people with

COVID-19

could spread the virus before symptoms appeared. Nor was it known that some people have

COVID-19but don't have any symptoms. Both groups can unknowingly spread the virus to others.

These discoveries led public health groups to do an about-face on face masks. The World Health Organization and the U.S. Centers for Disease Control and Prevention (CDC) now include face masks in their recommendations for slowing the spread of the virus. The CDC recommends cloth face masks for the public and not the surgical and N95 masks needed by health care providers.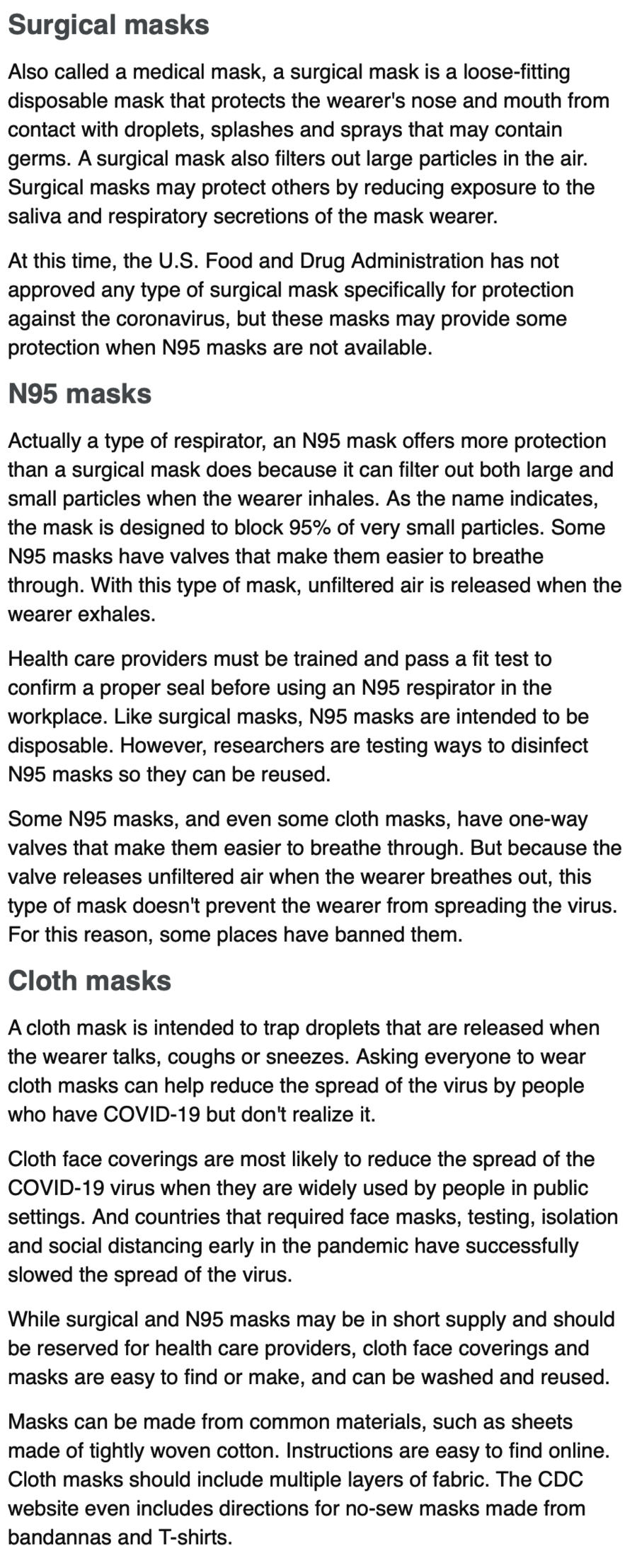 Lead Stories has previously debunked simiar claims, including these stories:
Fact Check: The CDC Did NOT Say That Cloth Masks 'Do Not Filter Anything' And Wearing One 'Risks Your Health'
Fact Check: Dr. Kelly Victory's 'COVID Facts' Video Includes Many Claims That Are NOT Facts
Fact Check: The CDC DOES Recommend Buying And Using Face Masks, Even If You Are Healthy