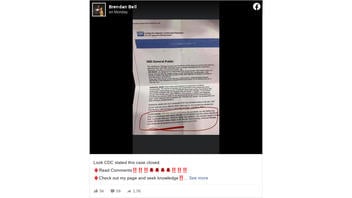 Did the Centers for Disease Control and Prevention (CDC) say that cloth masks "do not filter anything" and that wearing one "risks your health, rather than protect it"? No, that's not true: The purported CDC document making those claims is not real. Its language and recommendations clearly conflict with other known CDC writings.
The claims appeared in a Facebook post (archived here) on July 13, 2020. It read:
Look CDC stated this case closed.
This is what the post looked like at the time of writing:
(Source: Facebook screenshot taken on Wed Jul 15 16:23:44 2020 UTC)
It included a photo of a document that purports to be from the CDC. A section in the document was circled, drawing the reader's attention to the last paragraph, which read, in part:
CLOTH MASK: (DO NOT FILTER ANYTHING). As you exhale, you are ridding your lung of contaminants and carbon dioxide. CLOTH MASKS trap this carbon dioxide the best. It actually risks your HEALTH, rather than protect it. The moisture caught in these masks will become mildew ridden in 30 minutes.
It's clear from the statements made in the post that the alleged CDC document is not real. Far from issuing warnings on cloth masks, the CDC encourages their use to help slow the spread of Covid-19.
Here's CDC Director Robert R. Redfield:
Cloth face coverings are one of the most powerful weapons we have to slow and stop the spread of the virus - particularly when used universally within a community setting. All Americans have a responsibility to protect themselves, their families, and their communities."
Furthermore, the language, word choice and incorrect punctuation in the purported CDC document make clear that it's a fake. It reads like it was written by a nonscientist, unlike many writings from the CDC. Its frequent use of all upper-case letters also differentiates it from other known CDC writings.
Lead Stories reached out to the CDC to comment on the post. We'll update this report, if needed, when we hear back.
We've previously written about a number of false claims related to masks and Covid-19. Read the latest: