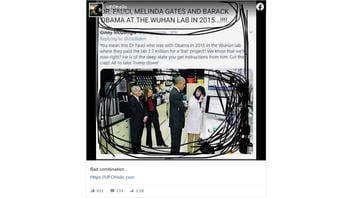 Does a photo show President Barack Obama visiting the Wuhan Institute of Virology in 2015 with philanthropist Melinda Gates and Dr. Anthony Fauci, director of the National Institute of Allergy and Infectious Diseases? No, that's not true: the photo offered as proof of such a tour was taken in Maryland at the National Institutes of Health in 2014. Neither of the women in the photo is Melinda Gates.
The claim appeared as a meme in a post published on July 14, 2020 by a Facebook page named "UFOholics" (archived here). It appeared to be a screenshot of another social post with the introduction "Bad combination...":
DR. FAUCI, MELINDA GATES AND BARACK OBAMA AT WUHAN LAB IN 2015...!!!!
This is what the post looked like on Facebook at the time of writing:
(Source: Facebook screenshot taken on Sat Jul 18 20:08:14 2020 UTC)
This message in the screenshot post is addressed to @joebiden and reads:
You mean this Dr. Fauci who was with Obama in 2015 in the WuHan lab where they paid the lab $3.7 million for a 'bat' project? We know that we'll now right? He is of the deep state you get instructions from him. Cut the Crap! All to take Trump down.
The photo actually depicts the 2014 visit of President Obama to the Bethesda, Maryland labs where NIH scientists were studying the Ebola virus.
A reverse image search on Google shows the image first appeared Dec. 2, 2014 on the NIH Director's Blog to illustrate a post and is credited to NIH. The caption with the photo says "Dr. Nancy Sullivan of NIH's National Institute of Allergy and Infectious Diseases discussing Ebola research with President Barack Obama as NIAID Director Dr. Anthony Fauci and HHS Secretary Sylvia Burwell look on"
Photo metadata, the detailed background information digital cameras attach to each image, show the photo was taken December 2, 2014 using a Canon EOS 5D Mark III and Canon EF 24-105mm f/4L, camera and lens models widely used at that time. Lead Stories analyzed the image, uploaded from the NIH blog, using Metadata2go, an online digital photo metadata search service.
The woman in the red blouse is Burwell, not Gates. Here is the lab photo, plus photos of Burwell and Gates for comparison: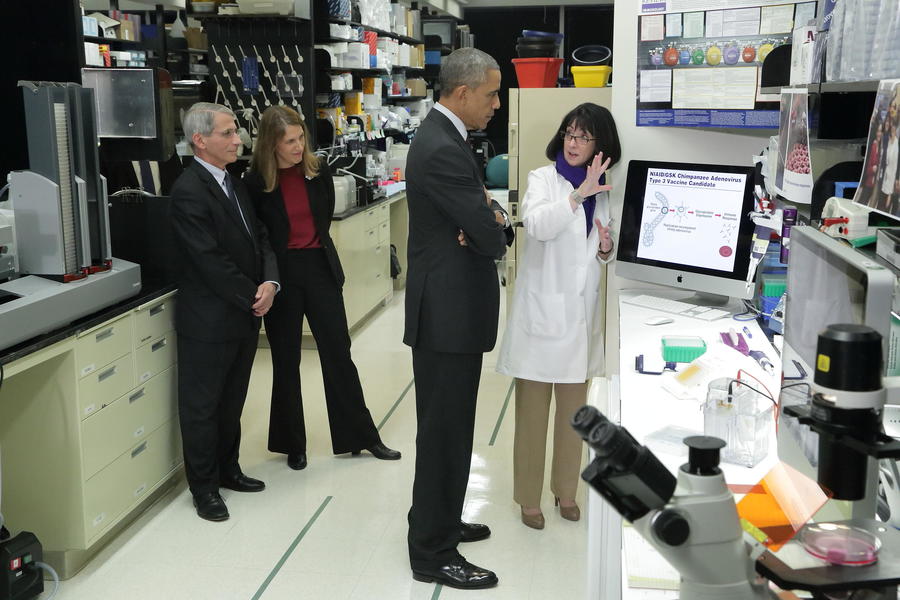 Fauci, who serves on the White House coronavirus task force, is a frequent target of disinformation efforts.
Melinda Gates and her husband Bill Gates are frequent targets of conspiracy theories during the pandemic, mostly related to their funding of COVID-19 vaccine research.
The so-called "bat" research has also been the topic of numerous viral falsehoods and a previous LeadStories.com fact-check.
Government documents show that the money -- actually about $3.4 million -- was awarded to a New York nonprofit doing research on animal-borne diseases. The Trump administration actually re-upped the grant in 2019, before suspending it in 2020.
Factcheck.org, Reuters, AFP United States and Politifact have all checked the claim and flagged it as false.