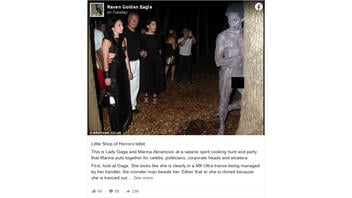 Does a photo show Lady Gaga at a satanic spirit cooking hunt staring at a male model who was later found dead with organs missing? No, that's not true. The photo of Gaga and Serbian artist Marina Abramovic was taken at the 20th annual benefit for the Water Mill, New York, art center. The naked model in the July 27, 2013, performance art exhibit was not Ryan Singleton, a model last seen in a California desert 18 days earlier. His body was in a morgue already.
The claim appeared in a post (archived here) on Facebook on July 7, 2020 with the heading, "Little Shop of Horrors tidbit." It opens:
This is Lady Gaga and Marina Abramovic at a satanic spirit cooking hunt and party that Marina puts together for celebs, politicians, corporate heads and etcetera.

First, look at Gaga. She looks like she is clearly in a MK Ultra trance being managed by her handler, the monster man beside her. Either that or she is cloned because she is tranced out.

Now, look at the young man, a model, Ryan Singleton, being told to stand at this tree, nude ...

They are out in the woods having enjoyed a fabulous hunt and catch for that nights dinner. Ryan's young body was found murdered right after this with all of his organs removed.

He was gutted, adrenodrained and his soul stolen for these non hueman [sic] predators to feast upon.
This is what the post looked like on Facebook at the time of writing:
(Source: Facebook screenshot taken on Fri Jul 10 17:27:43 2020 UTC)
The Daily Mail covered the Party extensively in a story titled Not too ghoulish, Gaga? Singer is nonchalant as as eats fake blood off woman's naked body at art show published on July 29, 2013. It included the photo used in the meme with the caption "Getting into the mix: Gaga was fascinated by the interactive art on display."
Ryan Singleton's decomposed body was found in a Southern California desert on July 22, 2013. This was 13 days after he was last seen at a Baker, California, gas station and five days before the event with Gaga and Abramovic even occurred. His rented car had broken down on the highway between Las Vegas and Los Angeles.
San Bernardino County Pathologist Steven Trenkle, who performed the autopsy, reported that the cause/manner of death were unknown. He wrote that the degree of decomposition prevented a sure determination and that "animals might have been involved" in the disappearance of some of his organs.
Another version of the claim is in a meme that shows photos of Gaga with a spoon that allegedly contains blood.
The claim that Gaga was partaking in blood rituals along with the photos of her with a spoon have been previously debunked by Lead Stories in an article titled Fact Check: Lady Gaga Did NOT Participate In 'Vile, Sickening' Blood Drinking Ritual Pertaining To 'Adrenochrome And Spirit Cooking'. Read that story for more context on the adrenochrome conspiracy theories.
Regarding the claim that there was a "handler" standing next to Gaga managing her, that man is experimental-theater director and artist Robert Wilson who could not control her if he tried. Gaga has security guards near her at all times, and no one can put her into a trance or otherwise influence her in their presence. Other photos from the event show guests and various painted models in body paint, and they are all captioned The 20th Annual Water Mill Center Summer Benefit, July 27, 2013.