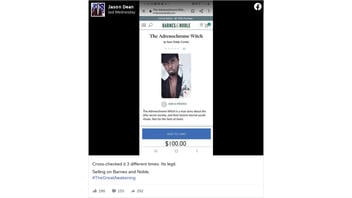 Did Sean "Diddy" Combs write a book called "The Adrenochrome Witch"? No, that's not true: The book claiming to be by Combs is posted solely to self-publishing platforms. It's apparently just seven pages long and has received several reviews saying it's a scam. Representatives for Combs did not reply to a request for comment.
The claim appeared as a Facebook post (archived here) on July 1, 2020. It opened:
Cross-checked it 3 different times. Its legit.





Selling on Barnes and Noble.


#TheGreatAwakening
This is what the post looked like at the time of writing:
(Source: Facebook screenshot taken on Wed Jul 8 17:45:29 2020 UTC)
The post appears to show that the book is being sold on the regular Barnes & Noble site. But the link goes to an empty search result page. Lead Stories reached out to Barnes & Noble to see whether the link worked at one time. We did not hear back.
Curiously, for a book purportedly authored by one of the world's most famous rap moguls, we couldn't find it for sale on any regular site -- not Barnes & Noble, not Amazon Books, not Books-A-Million.
In fact, the only place where the so-called book can be found is on self-publishing sites, such as the self-publishing arm of Barnes & Noble and Google Play.
Barnes & Noble Press allows authors to upload their books and make them available for purchase on BN.com, on NOOK devices and in stores. A Nook version of the alledged Combs book can be seen here. It includes a sample from the book, which reads, in part:
Once upon a time in the land of Hollywood, many women came into acting careers, and were exposed to higher authorities who didn't know God, or accept the Lord Jesus Christ into their hearts as their eternal Savior. Many of these women started off innocent, and had good intentions when they entered the world of Hollywood and the elite. These women were subjected to people thought they could have anything in life they wanted, because they felt they could purchase anything with money. One of the most coveted things many of these women wanted, was eternal youth.
The sample goes on to say that the lyrics of the song, "Hotel California," "tell you everything you need to know about how this secret club sought out eternal youth."
A link to the Google Play version of the purported Combs book can be found here. It's listed under a slightly different name, "The Adrenochrome Witch: Secrets of the Elite," and just has "Diddy" as the author. It identifies "Candy Michelle Johnson" as the publisher.
The Google Play version of the book has five reviews, which are overwhelmingly negative. Here's what some of them said:
I don't believe Diddy wrote this. It's only 7 pages, hardly a book or worth $80 Scam!!!

This book is only 7 pages not worth $80

SCAM ALERT Everyone report this fake book. It's only 7 pages for $80. Don't buy it! SCAM ALERT
Lead Stories reached out to Johnson for comment. Before hanging up, she said:
You don't want my comment, and don't call this number anymore."
Johnson has a number of ebooks to her name listed in Google Play, including a spec script called "The Tenant of Hotel California" and "Diddy: Fall In Love With YOU," another book that Google Play lists as being authored by "Diddy."
We also reached out to representatives for Combs. They did not reply to a request for comment.
Lead Stories has written about adrenochrome before. Here are our most recent articles that mention the myth: