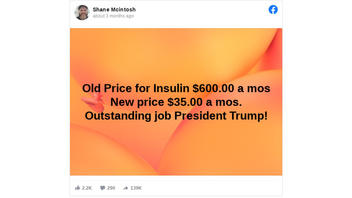 Have insulin prices under President Trump gone from $600 a month to $35 a month? No, the claim takes details out of context. The American Diabetes Association told Lead Stories the $35 price for insulin will apply only to seniors with Medicare Part D drug plan and the lower price will not take effect until 2021. The $35 insulin price does not apply to anyone who is not a senior with this specific drug plan.
The claim appeared as a post published on August 23, 2020, on Facebook (archived here) with following text:
Old Price for Insulin $600.00 a mos New price $35.00 a mos. Outstanding job President Trump!
This is what the post looked like on Facebook at the time of writing:
(Source: Facebook screenshot taken on Thu Aug 27 22:23:39 2020 UTC)

The claim in the Facebook post is likely based on President Trump's announcement about a new Medicare benefit in May, reported by CNN. He said the prescription plan would cap co-pay costs at $35 for insulin for seniors on with Medicare's Part D drug plan.
The White House issued a press release about the plan.
The White House claimed:
LOWERING COST OF INSULIN FOR SENIORS: President Donald J. Trump and his Administration are lowering out-of-pocket insulin costs for Medicare's seniors."
The $35 co-pay plan only applies to the approximately 3.3 million seniors who use one or more of the common forms of insulin and who have the drug plan, the American Diabetes Association confirmed to Lead Stories.
The $35 co-pay does not apply to the millions of other Americans who use insulin. The American Diabetes Association reports "Approximately 7.4 million Americans with diabetes use one or more formulations of insulin."
The cost of insulin varies, the ADA told Lead Stories, but there are reports of people spending as much as $600 a month for their prescription.
The lower price of $35 a month has not taken effect yet as of August 2020. The Senior Savings Model introduced by Trump will begin in January 2021, the ADA confirmed to Lead Stories.
The ADA's statement to Lead Stories said:
The cost of insulin varies for seniors on Medicare depending on their plan and what phase of their drug benefit they are in. Cost sharing changes the more drugs seniors purchase on their plan. Seniors who enroll this fall in Part D plans participating in the Senior Savings Model will pay no more than $35 per 30-day supply of insulin in 2021."


Here is a video of Trump announcing the plan.