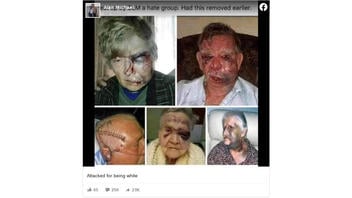 Were the elderly people pictured in these photos badly beaten by BLM? No, that's not true: This specific collection of photos have an online history associated with South African Farm attacks. Regardless if the past labeling as such was correct- this photo collection is not recent and has nothing to do with the organization BLM, the Black Lives Matter Movement, or any protesters at any protests that have taken place in the USA in the Summer of 2020.
The claim originated from a post (archived here) where it was published on August 22, 2020. It was captioned:
Beat up by BLM a hate group. Had this removed earlier.
This is what the post looked like on Facebook at the time of writing:
(Source: Facebook screenshot taken on Fri Aug 28 19:41:53 2020 UTC)
The photo in the upper left dates back to October of 2014. Anne Els, from Bloemfontein, South Africa was attacked in her home. The picture was posted to the page 'Stop White South African Genocide' (here)(archived here) on October 3, 2014.
That photo also has a history of being misused to represent injuries to an elderly Swedish woman by a Muslim immigrant. That meme was debunked (here)(archived here) by the Norwegian fact check organization Faktisk,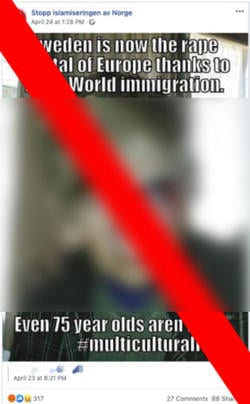 On October 28, 2010, the blog nolstuijt.wordpress.com reported about an attack two days earlier on a 75 year old woman, Renske Cowan. She was attacked in her home in Primrose, Germiston, South Africa. The article is titled, "Afrikaans pensioner brutally beaten in Germiston" (here)(archived here)
Lead Stories was unable to locate background information about the remaining three photos. These five photos have been appearing in close proximity as individual uncropped photos of varying dimensions. Below are two examples of the five photos from this meme appearing together as a collection.
The Facebook page 'Stop Farm Attacks & Murders in South Africa' uploaded 11 photos on June 16, 2020. This screenshot (Lead Stories has added blurring) from the page's photos show the how five photos in question appear in close proximity, they have been marked with red. Also visible in that screenshot, from June 5, the page changed it's profile picture to "White Lives Matter" and posted a negative meme about George Floyd. The page, warning the photos are extremely graphic- is (here)(archived here).
The five individual photos were also found posted on July 3, 2020 by a user of the Russian social media site VK (here)(archived here). The Czech language part of the caption translates, "Just a few photos of white South Africans brutally attacked by blacks and no news. Why we have to accept it, why we accept it." In full, the caption read:
Stop Farm Attacks & Murders in South Afrika
Jen pár fotek bílých Jihoafričanů, které byly brutálně napadeny černochy a žádné zprávy. Proč to musíme přijmout, proč to přijímáme. Fuck BLM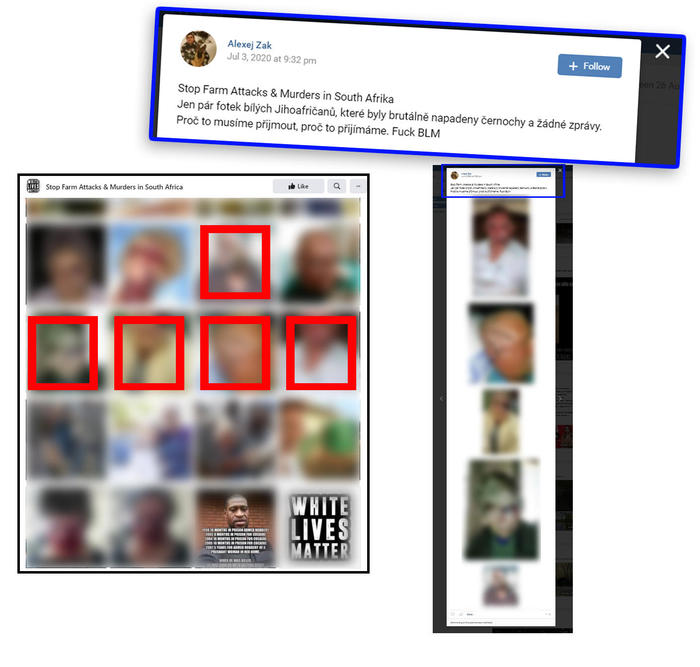 This meme has been changing as it circulates, one edition from August 20, 2020 lives on as a layered screenshot that has more than one caption.
The current caption (here)(archived here) includes mention of November's election:
This is what the liberals envision for us all the time if they win in November. Your thoughts?
Someone else had commented "this evil [devil emoji]" and below that Tom Clapsaddle's caption, the original post no longer publicly visible on Facebook, lives on as a screenshot with his name. His caption read:
Victims of your sweet, "peacefully protesting" Antifa/BLM groups...."
The last layer of captioning is below that, of unknown origin:
Beat up by BLM a hate group. Had this removed earlier.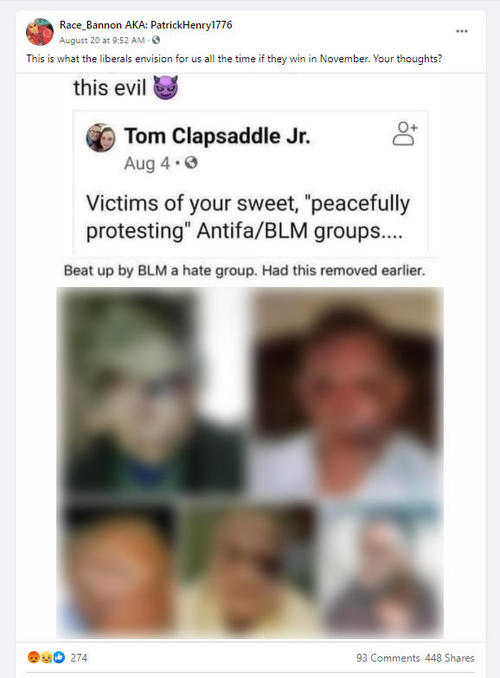 A different photo has also been pushed without its original context to American Facebook audiences. The earliest instance of this photo we found is in an April 3, 2016 report in southafricatoday.net titled, "84 year-old severely beaten and almost raped" The article (here)(archived here) describes an attack on an unnamed woman in Hoopstad, South Africa. That 2016 article cites as it's source a facebook account, "boerekrisisaksie" that is now deactivated.
On July 19, 2020, this (at least) four year old picture was posted to Facebook (here)(archived here) by Elaine Thomson, she appears to be American. On July 28, 2020 another American account, Allman Arman, posted the photo (here)(archived here)- with the identical caption and no added context about this photo coming out of South Africa or being at least four years old:
Another elderly 84 year old woman attacked & beaten. why is the media not reporting these beating and killing 72 have been beaten & killed in their homes, some of them raped. When will the media take notice and the world do something to protect our elderly? Makes my blood boil
Two other profiles shared these posts into two facebook groups- Allman's post was shared into 'The Rush Limbaugh Facebook Group' on August 11, 2020 and Elaine's post was shared into the 'FOX NEWS with Tucker Carlson' group on August 18 (archived here) and (here).