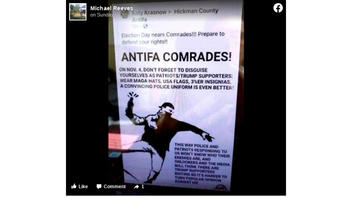 Is Antifa recruiting "comrades" to dress as President Trump supporters and police to riot on Election Day and fool people into thinking it was supporters of Trump who caused the mayhem? No, the online meme making the claim was posted by a woman who told Lead Stories it was a joke. The version of the flyer date back to at least 2017.
The claim appeared as a meme in a post (archived here) shared to Facebook on September 13, 2020. The meme is a screenshot of a post that shows an alleged Antifa member holding what appears to be a Molotov cocktail, reads "Election Day nears Comrades!!! Prepare to defend your rights!!" The flyer reads:
ANTIFA CONRADES! ON NOV. 4, DON'T FORGET TO DISGUISE YOURSELVES AS PATRIOTS/TRUMP SUPPORTERS: WEAR MAGA HATS, USA FLAGS, 3%ER INSIGNIAS, A CONVINCING POLICE UNIFORM IS EVER BETTER! THIS WAY POLICE AND PATRIOTS RESPONDING TO US WON'T KNOW WHO THEIR ENEMIES ARE, AND ONLOOKERS AND THE MEDIA WILL THINK, THERE ARE TRUMP SUPPORTERS RIOTING SO IT'S HARDER TO TURN POPULAR OPINION AGAINST US!
This is what the post looked like on Facebook at the time of writing:
(Source: Facebook screenshot taken on Tue Sep 15 18:37:37 2020 UTC)
There is no evidence that Antifa, a loosely organized movement, posted a public flyer to promote something violent on Election Day -- which the post misstates as Nov. 4; the election is actually Nov. 3.
Also, it is old. According to the Facebook page Debunk the Junk, Snopes, and Law Enforcement Today, this flyer has been circulating since 2017. It also made the rounds in 2018 and 2019.
Lead Stories reached the woman who posted it to the page "Hickman County Antifa," Katy Krasnow. She told us:
Lol, yeah, there's not much to talk about, I posted that on a satire page
It was around August 18th I think and I searched antifa memes on DuckDuckGo it was a few scrolls down."
Law Enforcement Today responded to the flyer in a Sept. 4 editorial titled "Is there an Antifa riot planned for the day after the election? Here are the rumors -- and what we found." It read:
HICKMAN COUNTY, TN - If you've been surfing through the likes of Facebook, you might have stumbled across a post that is a screenshot of a picture on a phone that showcases a sort of Antifa flyer alleging that there's going to be some kind of a ruckus on November 4th, possibly in Hickman County.

While I personally loathe the likes of Antifa and their tactics, I can assure you that this is simply a hoax...that flyer stems from an elaborate hoax from 2017.
(Although that editorial refers to "Hickman County, TN" and the only Hickman County that turns up in a Google search is in Tennessee, the meme itself makes no reference to a state.)
The Debunk the Junk's post read in part:
It's important to remember that outside entities are creating memes, stories, articles, etc. with fake news and trying to get these items to go viral so the USA will be divided even more. But...there are still people who share things without one iota of research. Below I will post the link to the original hoax tied to the flyer in the photo.
What Debunk the Junk posted were stories -- one by The Guardian, the one from Snopes, the editorial from Law Enforcement Today and a blog on a site called 247Sports. All of them explain there is nothing to the flyer or any significance to the date Nov. 4. Krasnow had posted it on a satire page, now defunct, called Hickman County Antifa. It is not clear who -- the page or Facebook -- took it down.
Yet it lives on, and before the page disappeared, it caught the attention of the Austin County Democratic Club. The club is a political organization out of Austin County, Texas. The club's Facebook page posted this Sept. 13:
Law Enforcement Today concluded:
The only thing that has been a mystery since 2017 is where this flyer genuinely originated from. As in who made it and what was the intent behind it.

Some could argue that it was legitimately made by some Antifa fanatic who was privy to the protests being promoted by Refuse Fascism in the hopes that violence could break out and that attendees would adopt the message delivered in the flyer.

Others could argue that it came from the far-left as a general joke or hoax to see if conservative news outlets at the time would latch onto the flyer and get all up in arms.

While internet trolling hoaxes in said form to achieve maximum "lulz" is something often attributed to right-leaning 4chan users - most would be surprised to know that 4chan attracts far-left leaning pranksters as well.

Short of finding the very first upload anywhere online and gathering the metadata on the original picture, we'll likely never know exactly where it came from.

However, it's safe to say that the November 4th flyer making the rounds once again should be taken with a grain of salt.