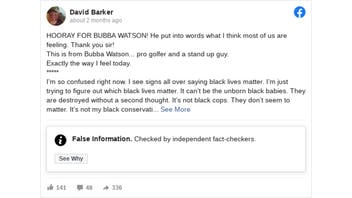 Did pro golfer Bubba Watson write a post questioning Black Lives Matter? No, that's not true: Watson posted on his verified Twitter account that he wrote no such thing, saying, "it ain't from me."
The claim appeared in a post (archived here) published widely on Facebook. It opened:
HOORAY FOR BUBBA WATSON! He put into words what I think most of us are feeling. Thank you sir!

This is from Bubba Watson... pro golfer and a stand up guy."
The purported Watson post began:
I'm so confused right now. I see signs all over saying black lives matter. I'm just trying to figure out which black lives matter. It can't be the unborn black babies. They are destroyed without a second thought. It's not black cops. They don't seem to matter. It's not my black conservative friends. They are told to shut up if they know what's best for them by their black counterparts. It's not black business owners. Their property does not mean anything. It's not blacks who fought in the military. Their statues are destroyed by the black lives matter protesters with disdain. So which black lives matter again?
This is what the post looked like on Facebook at the time of writing:
(Source: Facebook screenshot taken on Tue Sep 15 21:58:54 2020 UTC)
Watson, a pro golfer who lives in Georgia and has 12 Tour PGA victories, denies he wrote the Facebook post that questioned the Black Lives Matter movement. Watson posted July 24 on his verified Twitter account, @bubbawatson, that "it ain't from me."
OK, I have gotten a few questions about a Facebook post going around that says I wrote it. Seems some people are even talking about it on Twitter too. I'm not sure how or why my name ended up on the Facebook post, but it ain't from me. Someone decided to pretend it was from me and I guess it took off. It's unfortunate how things like this spread online. I hope this is a good reminder to be careful what you believe on the internet. When it comes from me personally, if it's on Facebook and it is from me, it will be on my official page. If it is on Twitter and it is from me it will be under this account.

I appreciate the fact-checkers who have already debunked the Facebook post."
Watson, a two-time Masters champion, has faced questions because owns one of the 1969 Dodge Chargers featured in "The Dukes of Hazzard" TV series from 1979-85. The car, called the General Lee on the show, had a Confederate flag painted on the roof during the TV series. Watson, who bought the car in 2012 for $112,000, had the flag removed in 2015. He told USA Today that race did not enter into his decision to buy the car.
So yes, I have the General Lee, and I've been searching. ... we'd love to give it to a museum because we believe that it's TV history. It's nothing against race on that show. I didn't buy the car based on race. I bought it based on my family, me and my dad, me and my mom watching that show, but obviously there's no flags around that car. The flags have been removed from that car."