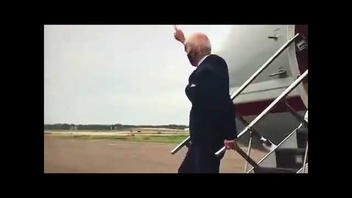 Did Democratic presidential nominee Joe Biden wave to an empty field when he stepped off his jet in Tampa, Florida, as though he was waving to no one? No, that's not true. A video making this claim and gaining wide attention on social media has clipped the footage. A full showing of the video clearly shows he was waving at firefighters and perhaps others standing behind his motorcade and in front of fire equipment.
The bogus claim that he waved to nothing and nobody appeared in a video (archived here) published to YouTube on September 15, 2020, titled "Joe Biden Waving To En Empty Filed." Heard in the background of the video, a woman recording the airport scene from a TV screen jeers:
What are you waving to? There's nobody there? He thinks he's Trump...Look: Empty field, empty field."
Click below to watch the video on YouTube:
Lead Stories was aware of the footage, and where it came from, courtesy of Storfyful.
The video is doctored as if to make Biden seem out of touch. As the full video, shown by Bloomberg News national political reporter Tyler Pager, makes clear, the background was not empty:
Joe Biden has arrived in Tampa, Florida for his first visit to the state as the Democratic nominee. He is hosting a roundtable with veterans here and then a Hispanic Heritage Month event in Kissimmee. pic.twitter.com/qizRPiSrXn

-- Tyler Pager (@tylerpager) September 15, 2020
Here is a screenshot from that video, clearly showing several people in the distance: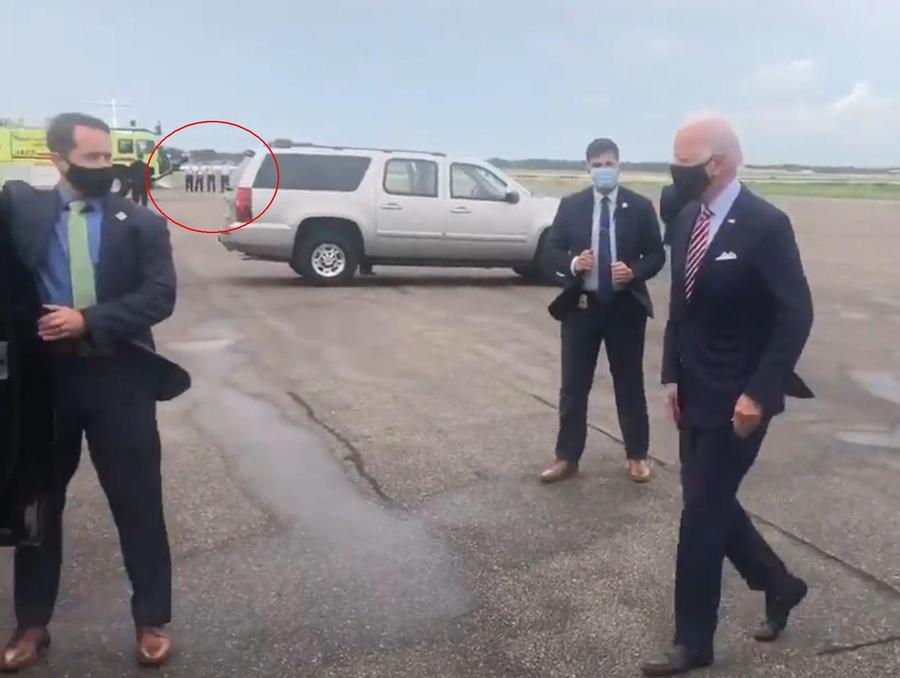 Pager's video of the Tampa arrival was timestamped 1:42 p.m. on Sept. 15, the same day the YouTube was posted by Art TakingBack, whose description on the platform reads:
I'm here to support my President #Trump 🇺🇸 #MAGA #TRUMP2020 #WalkAway 👊🏼🇺🇸👊🏼🇺🇸
That hasn't stopped social media posts of the shortened clip, which does give the impression that Biden is aimlessly waving. Nor has it stopped conservative media outlets like The Gateway Pundit from capitalizing on the shortened video to create a false narrative of Biden's arrival. The Gateway Pundit wrote the following at 2:45 p.m. on Sept. 15 -- more than an hour after Pager's full-video tweet.
The hits just keep coming!

Joe Biden traveled to Tampa, Florida today where Trump supporters came out by the hundreds to welcome him to Florida.

And Joe Biden was caught waving to an empty field when he landed.

There was no one there."
On social media, it has also been repeatedly copied, including this post from "Karli" (who gets video credit in the YouTube video):
Omgawd he's waving to a empty field! 🤣🤣🤣🤣🤣 pic.twitter.com/3kJ11eRmCh

-- Karli 🇺🇸 (@KarluskaP) September 15, 2020
This post also shows the shortened clip, which ran on Fox News Business "Outnumbered":