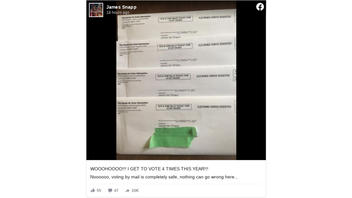 Can a man who received four ballot applications vote four times in the 2020 election? No, that's not true: A ballot application is not the same thing as a ballot. Even if the man returned all four applications, he would only be allowed to vote once, according to state officials and the CEO and president of the nonprofit group that sent out the applications. Authorities in Michigan, where the man lives, say there are sufficient protections in place to prevent fraud. It is illegal to vote more than once in an election.
The claim appeared in a post (archived here) published to Facebook on Sept. 16, 2020, by a user named "James Snapp." His profile says he lives in Sterling Heights, Michigan. Alongside a photo of four vote-by-mail applications, Snapp wrote:
WOOOHOOOO!!! I GET TO VOTE 4 TIMES THIS YEAR!!!




Noooooo, voting by mail is completely safe, nothing can go wrong here...
This is what the post looked like at the time of writing:
(Source: Facebook screenshot taken on Thu Sep 17 15:01:54 2020 UTC)
The post appears to confuse ballots with ballot applications. The man did not receive four ballots; he received four ballot applications. They were sent to him by the Center for Voter Information (CVI), a nonpartisan, nonprofit group that has sent out tens of millions of applications with the goal of encouraging people to vote. When asked about the man's post, Tom Lopach, president and CEO of CVI, told Lead Stories:
Please bear in mind that the Center for Voter Information only mails ballot applications to registered voters. CVI does not send out actual ballots. If the mail recipient on this Facebook post were to return all four ballot applications to his local election office, he would still only be allowed to vote once. All he would be doing is adding to the workload of local election officials.

In many states, CVI will send multiple ballot applications to voters simply as a prompt, to encourage them to safely vote from home. But all the letters make clear that, if recipients already have requested a vote-by-mail ballot, they should simply disregard the CVI ballot application.
Earlier this month, authorities in Michigan responded to President Donald Trump's suggestion that people vote twice to stress-test the election system. Secretary of State Jocelyn Benson said this:
Our election system has been stress-tested by three successful elections already this year and in all of them proven that it is absolutely safe and secure ... We have protections in place to ensure election officials track and verify every ballot they send and receive and in every instance we ensure that each person gets only one vote.
Tracy Wimmer, a spokeswoman for the Michigan Secretary of State, explained the process in an email to Lead Stories, stressing that the man in the post would absolutely not be able to vote four times. She said:
All he received are applications, and once a clerk receives an application from someone whose identity is verified and the signature on the application matches the one on file, it is marked in our Qualified Voter File that that person has requested an absentee ballot and then they are sent one once clerks begin their mailing. They are not able to request multiples, as this process would flag that they had already requested a ballot any time their information was entered into the QVF.
Michigan Attorney General Dana Nessel reminded people that it is illegal to vote more than once. She promised to go after those who intentionally flout state election laws. She said:
Let me be perfectly clear: voting twice is illegal, no matter who tells you do to it. The president's idea is a great one for people looking to go to jail.
In sum, a voter who receives multiple ballot applications would not be able to vote more than once. If he tried to do so, he could be prosecuted.