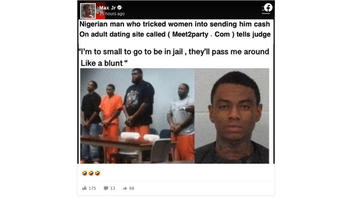 Is this a real headline about a Nigerian Scammer going to jail? No, it's not real: This post is just a sneaky way to put the name of a website in front of an audience. It uses a format that may not immediately register as an advertisement. In this example, the CNN logo has been used to make a spoof news headline about a man going to prison.
The advertisement for the website Meet2Party.com appeared as a post (archived here) on the verified Facebook page of Max Jr. where it was posted on September 9, 2020. It opened:
Nigerian man who tricked women into sending him cash On adult dating site called ( Meet2party . Com ) tells judge "I'm to small to be in jail , they'll pass me around Like a blunt "
This is what the post looked like on Facebook at the time of writing:
(Source: Facebook screenshot taken on Thu Sep 10 13:05:43 2020 UTC)
The photo in this meme dates back to a 2011 arrest of the rapper Soulja Boy in Temple, Georgia. In all, five men who had been riding together in a car, including the hired driver and Soulja Boy's bodyguards, were arrested. TMZ reported about it (here)(archived here) in an October 18, 2011, article titled, "Soulja BoyYouuuuuuuuuu Got Arrested." CNN did report about Soulja Boy's arrest as well, in an article (here)(archived here) titled, "Soulja Boy busted for pot, gun charges," but the real CNN article does not match the fictional meme headline about the Nigerian Man.
The real CNN and TMZ articles from 2011 are shown below, as well as two versions of the meme inspired by these photos. An earlier version of the meme does identify Soulja Boy.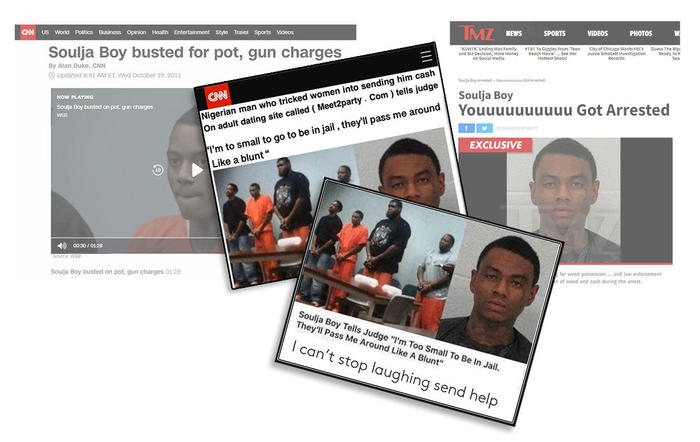 In February 2020, an in-depth investigation from Senior Writer Alex Kasprak of Snopes was published with an intriguing headline: "Savage Memes and Lunar Dreams: Deceptive Dating Sites' Intimate Ties to Firefly Aerospace." with the subheading, "How Cheech and Chong's Facebook timeline unwittingly exposed a network of niche dating websites tied to a Silicon Valley space tycoon." (here)(archived here) This investigation had spanned over two years' time and Kasprak introduced the complex story this way:
In April 2018, a seemingly simple question first presented itself to us: Why would the official Cheech and Chong Facebook page be sharing memes that not-so-subtly advertised bogus hook-up sites such as plentyofhoes.com? Our search for that answer took us on a months-long digital odyssey -- first to a small operation run by two men in the English countryside, and ultimately to a much bigger operation spread between Ukraine and Silicon Valley. The convoluted international trail we followed, several financial-crime experts and investigators told us, appears to be designed to obscure the ownership details of companies that profit from deceptive dating websites by using fake profiles and expensive, hard-to-cancel subscription packages.
One of the ground-level steps in this scheme was to entice people to go to the dating websites for them to be roped into a hard-to-cancel subscription. This audience was introduced to the names of the dating sites, which belonged to a network called "Top Offers," through ads disguised as memes. These "memevertisements," as Snopes called them, appeared posted by verified accounts, such as Cheech and Chong's, with very large followings. An affiliate marketing platform was associated with the Top Offers dating sites -- and marketers were paid when dating site subscriptions resulted from a variety of their spamming tactics.

Meet2party and Fish4nudes appears to be a resurgence of the TopOffers network described in the investigation by Snopes' Alex Kasprak using the same memevertisement tactic to reach a wide audience. He described the "Savage Squad" this way:

The people who created these "memevertisements," as we call them, are two self-described British "entrepreneurs" named Ryan Hodge and Adam Spencer. Both have occasionally referred to themselves as the "Savage Squad" (or "Savage Fam") on social media. The websites their memes promote are fake sign-up pages programmed to dump a curious Facebook user onto a different, ostensibly legitimate dating website. Thanks to that fake page, the Savage Squad gets credit for bringing the user to that final site. If that user gives up a credit card number, the Squad receives a cut of the profits.
Lead Stories found both a Facebook page named Savagehub sharing Fish4nudes memes. Many of the memes have the word savage in them. There are some large verified pages posting the memevertisements. The verified page of the recording artist Waka Flocka Flame with 9,996,115 followers has a unashamed spam balance of about 50% of the posts on the page mentioning either Fish4nudes.com or Meet2party.com. The official page of adult film star Alexis Texas has close to 2 million followers and the feed is virtually all spam for Fish4nudes.com and Meet2party.com. Max Jr, the gaming video creator who was pulled into this article by the fake CNN memevertisement, has close to 3 million followers to his verified account and is still delivering lots of gaming content to his fans. About two-thirds of the posts are devoted to gaming and just a few of the other humor posts are memevertisements.