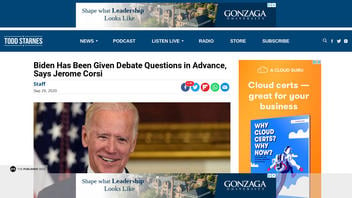 Did Moderator Chris Wallace of Fox News or someone on his team give former Vice President Joe Biden a crib sheet ahead of debate #1 with President Donald Trump? No evidence nor provenance was supplied by the Republican operative who made the claim on an Iowa radio show to substantiate that before it was amplified by several other outlets.
The claim that debate questions were leaked to Biden was the subject of an article (archived here) published Sept. 29, 2020, on the website of radio host Todd Starnes. Titled "Biden Has Been Given Debate Questions in Advance" it opened:
Former Vice President Joe Biden has been given the questions to the first presidential debate in advance, noted author Jerome Corsi announced during an interview on radio station KXEL
Users on social media only saw this title, description and thumbnail:
Former Vice President Joe Biden has been given the questions to the first presidential debate in advance, noted author Jerome... View Article
Former Fox News host Megyn Kelly immediately cast doubt on the claim with a Tweet, saying "There is zero chance that's true."
When a Twitter user pushed back, asking why not, Kelly wrote: "Bc Wallace or his prep team would have to have leaked it. I know them all, and they are above reproach." Kelly was an anchor at FOX from 2004 through 2017.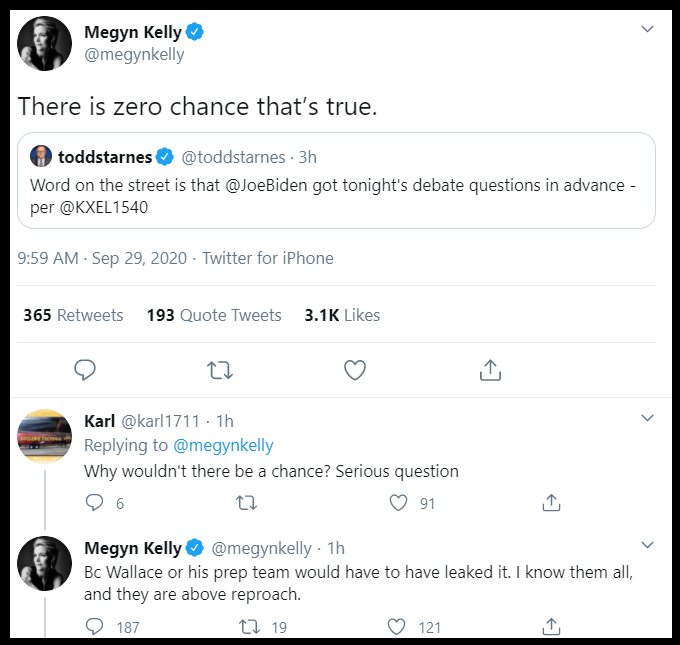 Starnes provides no direct evidence for the claim Chris Wallace or someone on the debate team had leaked the crib-sheet, citing only "word on the street" and linking to KXEL, an AM radio station in Waterloo, Iowa, where the claim was made on the local Jeff Stein talk show by Jerome Corsi, a Republican operative who has worked to spread debunked conspiracy theories including the claim Barak Obama was not born in the U.S. and the claim that Hillary Clinton operates a child sex ring.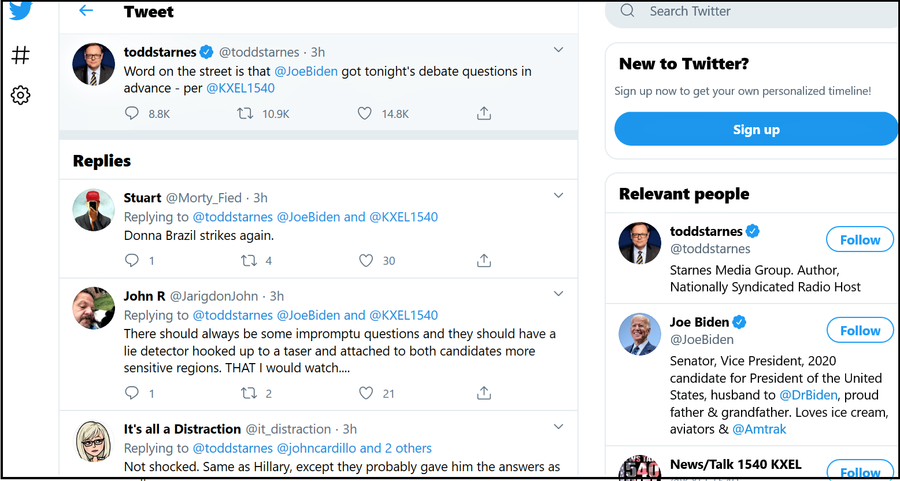 On his website, Starnes provides a SoundCloud(tm) clip of Corsi's remarks, again with no substantiating evidence.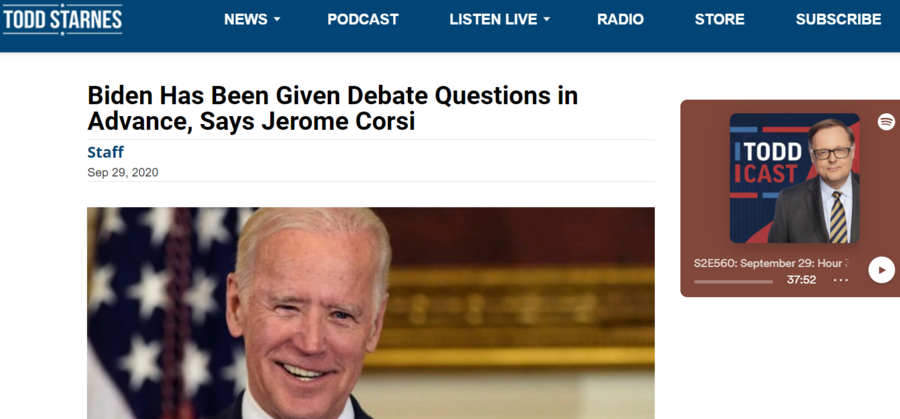 Corsi, is a former employee of InfoWars, the conspiracy-minded radio show and website. Corsi was identified as the go-between who alerted President Trump's campaign ally Roger Stone of impending WikiLeaks releases of emails embarrassing to Secretary of State Hillary Clinton.
"The information I've just gotten, and I think it's always been accurate, is that Joe Biden has been given the questions" Corsi says on Stein's show on 1540 KXEL in Waterloo, Iowa, but does not go on to provide any information about any source -- such as documents, interviews, video, photos, etc. -- let alone the identity of the person who gave it to him.
Lead Stories has reached out to the Commission on Presidential Debates, the Biden campaign and to the Trump campaign to ask what was given to candidates ahead of the debate. This report will be updated, if appropriate, when those organizations respond.
NewsGuard, a company that uses trained journalist to rank the reliability of websites, describes toddstarnes.com as:
A website publishing conservative opinion, largely produced by commentator and columnist Todd Starnes. The site has published inaccurate and misleading claims and does not run corrections.
According to NewsGuard the site does not maintain basic standards of accuracy and accountability. Read their full assessment here.