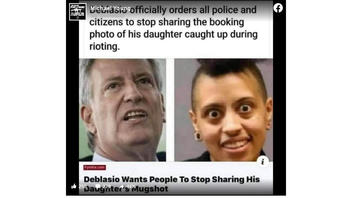 Did New York City Mayor Bill de Blasio officially order "all police and citizens to stop sharing the booking photo of his daughter caught up during rioting"? No, that's not true. The claim that de Blasio "officially" ordered police and citizens to stop sharing his daughter's booking photo is from baseless memes that stem from a now-removed tweet by a New York police group. There are no legitimate news reports that de Blasio ordered the removal of her mugshot, and the meme is based on a fake news article.
The claim appeared as a post (archived here) where it was published on Facebook on September 23, 2020. It opened:
"Deblasio officially orders all police and citizens to stop sharing booking photo of his daughter caught up during rioting"
This is what the post looked like on Facebook at the time of writing:
(Source: Facebook screenshot taken on Mon Sep 28 17:34:16 2020 UTC)
The mayor's daughter, Chiara de Blasio, was arrested during a protest in New York City on May 30, 2020. A day after her arrest, the NYPD's Sergeants Benevolent Association tweeted her arrest report, which included her date of birth, New York state ID number, height, weight, home address and her booking photo, according to The New York Times.
The police association's now-gone tweet read: "How can the NYPD protect the city of NY from rioting anarchist when the Mayors object throwing daughter is one of them. Now we know why he is forbidding Mounted units to be mobilized and keeping the NYPD from doing their jobs," the Times reported.
Twitter removed the SBA's tweet, stating a user "may not publish or post other people's private information without their express authorization and permission," and said the SBA account "is temporarily locked for violating our private information policy," the Union Journal reported.
The Sept. 23, 2020, Facebook post shows a screenshot of a headline for an article published on Fyrefox.com: "Deblasio wants people to stop sharing his daughter's mugshot."
There is no such article. The website Fyrefox.com does not have any information on it and an article does not exist with that headline on the site. The site only says "A New WordPress Site Coming Soon!"
The website PRNTLY, a site that notes "We report news with Conservative bias like CNN and WAPO report with Liberal bias," published an article on June 7, 2020, with the headline, "Deblasio Wants People To Stop Sharing His Daughter's Mugshot."
The story does not support the headline. The article claims that after Chiara de Blasio's arrest her father had her mugshot removed from social media.
The NYPD union posted a response on twitter about the subject, and deblasio quickly had their tweet removed from twitter because of the personal information it shared."
In fact, Twitter deleted the tweet from the Sergeants Benevolent Association, as Fox Business reported on June 2, 2020. The police association's Twitter account was temporarily suspended but it is now active.
Lead Stories contacted the mayor's office, and his press office acknowledged receipt of a comment request but did not respond as of publication time. We will update the story when a response is received.
De Blasio said in a June 1, 2020, press conference that he was unaware at that time that his daughter had been arrested but that he was proud of her. He also emphasized that her activities were peaceful.


A transcript of de Blasio's comments about his daughter from the press conference was posted on YouTube by NBC News NOW:
It was reported that my daughter was arrested at a protest. My daughter is 25 years old and I knew of some of her views. I knew she believed in peaceful protest and participated a few nights ago in a peaceful manner. When I found out she had been arrested and I finally reached her and asked her to recount the whole story. Look, I love my daughter deeply and I honor her. She only wants to do good in the world and to see a better and more peaceful world. She believes that change is needed and I am proud of her that she cares so much and is willing to do something about it. She recounted the story in detail to me. She was acting peaceful. She believes that everything she did was in the spirit of peaceful and respectful protest.

The bottom line is that I will let her speak for herself in any way that she wants to. But, I admire that she was out there trying to change something she thought was unjust and doing it in a peaceful manner. It was a reality that every parent faces. You never know when your kids become adults how they will go about their lives. Sometimes you get surprises. Even though this was a surprise to Chirlane and I, I respect my daughter and I honor her and I know her heart. I know she appreciates humanity, every kind of humanity. She appreciates the fact that people serve us. She appreciates the fact that we need to change this world and she in her own way has tried to do something about it. For that I want to tell her how much I love and respect and admire her."