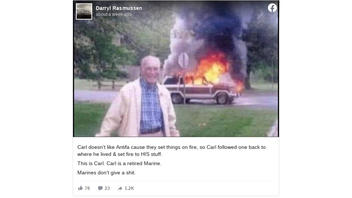 Does a photo show a retired Marine who followed an Antifa protestor back to the activist's house and set his car on fire? No, that's not true: The viral posting comes from an unrelated meme from at least 2013 often used in humorous postings to show daily events that go wrong in life.
The claim appeared in from a post (archived here) published on Facebook on September 20, 2020. It opened:
Carl doesn't like Antifa cause they set things on fire, so Carl followed one back to where he lived & set fire to HIS stuff. This is Carl. Carl is a retired Marine. Marines don't give a s**t.
This is what the post looked like on Facebook at the time of writing:
(Source: Facebook screenshot taken on Mon Sep 28 16:26:32 2020 UTC)
A Facebook posting that purports to show a former Marine standing in front of an antifa activist's car that he has set on fire is not only false, but USA Today says the photo has been making the rounds on social media since at least November 2013.
Politifact also has debunked the Facebook post, saying the meme has been around for at least 7 years.
The photo has appeared in several nonpolitical memes, such as one from October 2018 that shows the man in the photo smiling while the caption reads: "When everything is going wrong in your life but you're used to it."
A meme from 2019 uses the photo as an analogy a pizza burning in the oven while the man is stoned, listening to music and oblivious to the blaze.
Antifa is short for antifascist, a protest movement characterized by strong opposition to extreme right-wing ideology.
The Anti-Defamation League, more commonly known as the ADL, notes that antifa became newly prominent after the white supremacist Unite the Right rally in Charlottesville, VA, in August 2017.
In Charlottesville and at many subsequent events held by white supremacists or right-wing extremists, antifa activists have aggressively confronted what they believe to be authoritarian movements and groups. While most counter-protestors tend to be peaceful, there have been several instances where encounters between antifa and the far-right have turned violent.