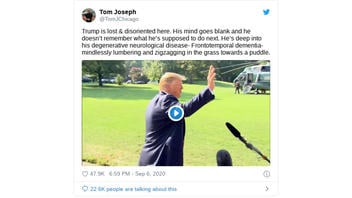 Was President Trump videotaped while disoriented and aimlessly wandering after talking to reporters? No, that's not true: The full video clearly shows that Trump was walking away from the reporters toward where he would join hands with first lady Melania Trump, and then they would board Marine One together. The viral video clip ends before the first lady enters the frame, causing it to look like Trump got lost and confused while attempting to board the presidential helicopter, which was only a few feet away.
The claim originated from a tweet (archived here) posted on September 7, 2020. The caption read:
"Trump is lost & disoriented here. His mind goes blank and he doesn't remember what he's supposed to do next. He's deep into his degenerative neurological disease- Frontotemporal dementia- mindlessly lumbering and zigzagging in the grass towards a puddle.
This is what the post looked like on Twitter at the time of writing:
(Source: Twitter screenshot taken on Mon Sep 7 14:17:30 2020 UTC)
In the full video, viewers can see that the first lady enters the screen at 12:03, whereas the viral video clip ends a few seconds before the 12-minute mark.
There have been no reports that the president is suffering from "frontotemporal dementia" as the tweet claims. The tweet cites no source for its claim.