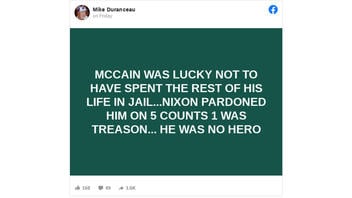 Did former President Richard M. Nixon pardon the late U.S. Sen. John McCain, a former prisoner of war in Vietnam, on multiple charges including treason? No, this is not true. McCain -- who is hailed by many as a hero for his service and surviving captivity during the Vietnam War but who has been disparaged by President Trump -- was never charged with treason. Records from Nixon's terms before he resigned in 1974 show McCain did not face a charge of treason that brought about a pardon by Nixon.
The claim appears in a post (archived here) published to Facebook on Sept. 5, 2020. The post is just a meme that read:
MCCAIN WAS LUCKY NOT TO HAVE SPENT THE REST OF HIS LIFE IN JAIL...NIXON PARDONED HIM ON 5 COUNTS 1 WAS TREASON...HE WAS NO HERO.
This is what the post looked like on Facebook at the time of writing:
(Source: Facebook screenshot taken on Mon Sep 7 14:36:22 2020 UTC)
The meme, a reincarnation of posts that date to 2017, is a fabrication; there is no truth to it -- and people on the Facebook page where it ran Aug. 25 have called it out:

The full list of Nixon pardons, from the U.S. Department of Justice, is found here.
The meme gives no sourcing for its claim, which is flatly false. McCain, from Arizona, faced accusations many times during his long career before he died from brain cancer on Aug. 25, 2018, including from a website called Vietnam Veterans Against John McCain that allege McCain was a traitor who gave away U.S. military secrets during his more than five years in captivity in Vietnam.
But a simple search of the Department of Justice's website prove the meme false. No pardon was granted McCain, much less ever needed, for any supposed crimes. McCain was often hailed as a hero during his service in Congress and for his actions during the Vietnam War. But he has been disparaged by President Trump, who said in 2015 while Trump was running for president that "He's not a war hero," in reference to McCain. "I like people who weren't captured."
Other conservatives have also attacked McCain with assertions that have been fact-checked over the years. But McCain, who was the Republican presidential nominee in 2008 and lieutenant commander in the Navy, has mostly drawn praise not only for his war hero status but for bridging the aisles of Congress during a political career that began in 1982, when he was elected to the U.S. House. He was elected to the U.S. Senate five years later and won reelection five times.