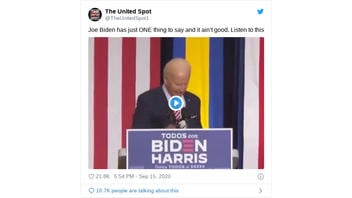 Did Joe Biden play the N.W.A song "F**k tha police" on his phone at a campaign event in Kissimmee, Florida? No, that's not true: This is a doctored video created by a satire site. In reality, Biden played the song "Despacito" by Luis Fonsi featuring Daddy Yankee on his phone after being introduced by Fonsi at the event celebrating Hispanic Heritage Month.
The claim originated from a video (archived here) tweeted by the satire site "The United Spot" on September 15, 2020 with the caption, "Joe Biden has just ONE thing to say and it ain't good. Listen to this." Both the authentic footage and the doctored video opened with Biden messing with his phone saying:
I just have one thing to say... hang on...
And then the video is made to look like Biden is bopping his head to the N.W.A lyrics blasting from his phone:
F**k the police comin' straight from the underground
A young n***a got it bad 'cause I'm brown
This is what the post looked like on Twitter at the time of writing:
(Source: Twitter screenshot taken on Wed Sep 16 13:06:45 2020 UTC)
A couple hours after "The United Spot" tweeted the fabricated video, Donald Trump retweeted it with the caption, "What is this all about?" Trump retweeted it again nine hours after his first retweet with a new caption that read, "China is drooling. They can't believe this!"
The United Spot's about page on their YouTube channel starts, "We make pictures talk, all videos are 100% parody/satire," but their Twitter account has no satire disclaimers. Although, the doctored version has "The United Spot" clearly watermarked on it.
The following is the authentic video:
The real gaffe would have been if Biden played Justin Bieber's rendition of "Despacito."