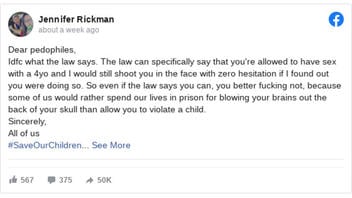 Is it legal to have sex with a four-year-old anywhere and is there an effort to make it legal? No, that's not true: It is a false claim made by QAnon promoters who work to convince social media users that there is a global child trafficking operation involving "deep state" leaders. There is no basis in reality to the claim, which is often shared with the hashtag #SaveOurChildren.
A copypasta text is circulating widely, including in a post (archived here), that warns someone having sex with a four-year-old, even when it is legal, will be shot in the face. The text read:
Dear pedophiles,
Idfc what the law says. The law can specifically say that you're allowed to have sex with a 4yo and I would still shoot you in the face with zero hesitation if I found out you were doing so. So even if the law says you can, you better fucking not, because some of us would rather spend our lives in prison for blowing your brains out the back of your skull than allow you to violate a child.
Sincerely,
All of us
#SaveOurChildren
#DONTFUCKWITHMINE
This is what the post looked like on Facebook at the time of writing:
(Source: Facebook screenshot taken on Mon Sep 21 15:32:43 2020 UTC)
This is a screenshot of the post: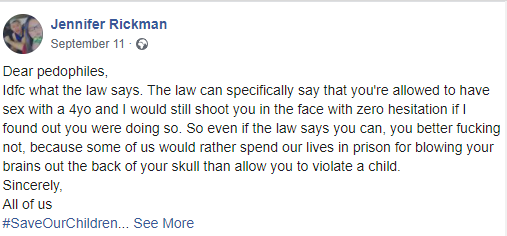 This fact check is an expansion on a previous Lead Stories debunk titled Fact Check: NO Evidence That Anyone Is Trying to Lower The Legal Age Of Consent To 4 Years Old.
The legal age of consent for sex varied around the world, but an article titled The ages of consent around the world in TheWeek.co.uk summed it up:
Most countries prohibit sex with under-16s or under-18s, but in some places the age of consent is as low as 11, or as high as 20. However, even within counties this can vary widely between males and females and in cases of heterosexual and homosexual sex.

In the UK, the age of consent stands at 16, regardless of gender or sexual orientation.
The country with the lowest age of consent is Nigeria, where it is set at 11, according to this study:
The age of consent in Nigeria (the minimum age at which an individual is considered legally old enough to consent to participation in sexual activity) is 11 years old.
While there are no current efforts to lower the age of consent, the claim that a group wanted it to be reduced to 4 may be rooted in the reported formation of a British group in the 1970s known as Paedophile Information Exchange, or PIE. The BBC reported that PIE existed for a decade:
PIE was formed in 1974. It campaigned for "children's sexuality". It wanted the government to axe or lower the age of consent. It offered support to adults "in legal difficulties concerning sexual acts with consenting 'under age' partners". The real aim was to normalise sex with children.
Britain's Mirror newspaper reported in a 2013 article titled After 30 years without an answer it's time to find out who protected the infamous Paedophile Information Exchange:
PIE was established in 1974 to campaign for the age of consent to be lowered to four years old.

Many former members have been imprisoned for child abuse crimes.

People long dead like Peter Righton, who fooled the social work establishment that he cared for the safety of children, when all the time he was grooming kids for his own despicable ends.

PIE included many establishment figures like the highly qualified Dr Morris Fraser, who by day practiced as a child psychiatrist in Belfast but by night, was accused of preying on young vulnerable children.
PIE disappeared in the mid-1980s, but another organization formed in the United States in 1978 still survives. The North American Man/Boy Love Association (NAMBLA) state's its goal is "to end the extreme oppression of men and boys in mutually consensual relationship." A 2016 Vice.com article titled Whatever Happened to NAMBLA? suggests the end may be near for that organization:
NAMBLA, once a visible advocate of pedophilia, doesn't feature heavily into what I call the online pedo-sphere these days. Membership numbers and group activities are difficult to pin down, but based on online research and conversations with alleged former members as well as opponents of the group, both appear to have dwindled to nearly nothing.
There is no indication on the NAMBLA website or anywhere that it is waging a campaign to lower the age of consent to 4.