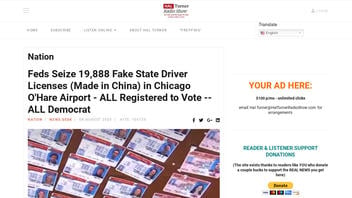 Did almost 20,000 fake IDs seized by Customs and Border Protection officers in Chicago turn out to be for fake names registered to vote Democrat? No, that is not true: While customs investigators seized 19,888 fake ID cards in the first half of 2020, the agency never suggested that these IDs are part of a voter fraud scheme. Voter registration has several verification steps that would be nearly impossible to replicate by overseas counterfeiters.
The claim originated from an article published by halturnerradioshow.com on August 8, 2020 titled "Feds Seize 19,888 Fake State Driver Licenses (Made in China) in Chicago O'Hare Airport - ALL Registered to Vote -- ALL Democrat" (archived here) which opened:
Why are the Chinese making so many fake U.S. driver licenses? Why are they being shipped to Chicago's O'Hare Airport? Why are ALL the names completely phony; yet ALL are Registered to Vote . . . and Registered as Democrats?

That's a disturbing little tidbit to discover, especially right before an election, right?

According to U.S. Customs and Border Protection, the bulk of these fake U.S. IDs flooding into the country come from China and Hong Kong, with the rest coming in from South Korea and the U.K.

Officials in Chicago just confiscated a shipment of these fake IDs totaling nearly 20 thousand.

Of course, the local news media in Chicago doesn't see a connection to "voter fraud," but most other people do.

As a matter of fact, it's the main thing that most people see with just three months before an election.

What emboldens illegal voters more than to head to the polls with a phony ID in their pocket in case anyone asks for ID?
Users on social media only saw this title, description and thumbnail:
Why are the Chinese making so many fake U.S. driver licenses? Why are they being shipped to Chicago's O'Hare Airport? Why are ALL the names...
The claim warps the contents of a legitimate July 27, 2020 US Customs and Border Protection press release titled, "Over 19K Fraudulent IDs Seized by CBP Officers in Chicago" (here)(archived here). That official statement began:
Fraudulent driver's licenses, which are used for criminal activity or fraud, continue to be found by U.S. Customs and Border Protection (CBP) officers at the International Mail Facility (IMF) at Chicago O'Hare International Airport.
The press release details how, from the beginning of the year to June 30, 2020, CBP officers had seized 1,513 shipments with fraudulent documents: a total of 19,888 counterfeit US drivers' licenses. The majority of these shipments were arriving from China and Hong Kong, with other seized shipments arriving from Great Britain and South Korea.
The claim made on the Hal Turner radio show and by others uses adds suppositions that are not supported by evidence and describe an impossible chain of events, all in order to cast doubt on the legitimacy of the upcoming November election.
The radio show's claim is false in four key areas:
The timing of the shipments;
The origin of the shipments;
The purpose of the fake IDs;
The ability of fake ID users to vote illegally;
Claim falsehood #1: the timing
The Hal Turner show suggests these IDs arrived all at once. But there were 1,513 small shipments and they were not a new problem. The illustration below shows the July, 2020 press release from Chicago alongside other CBP press releases going back three years showing similar seizures at other air freight hubs: Dallas, Memphis, Louisville, Philadelphia, and Dulles International Airport in Virginia.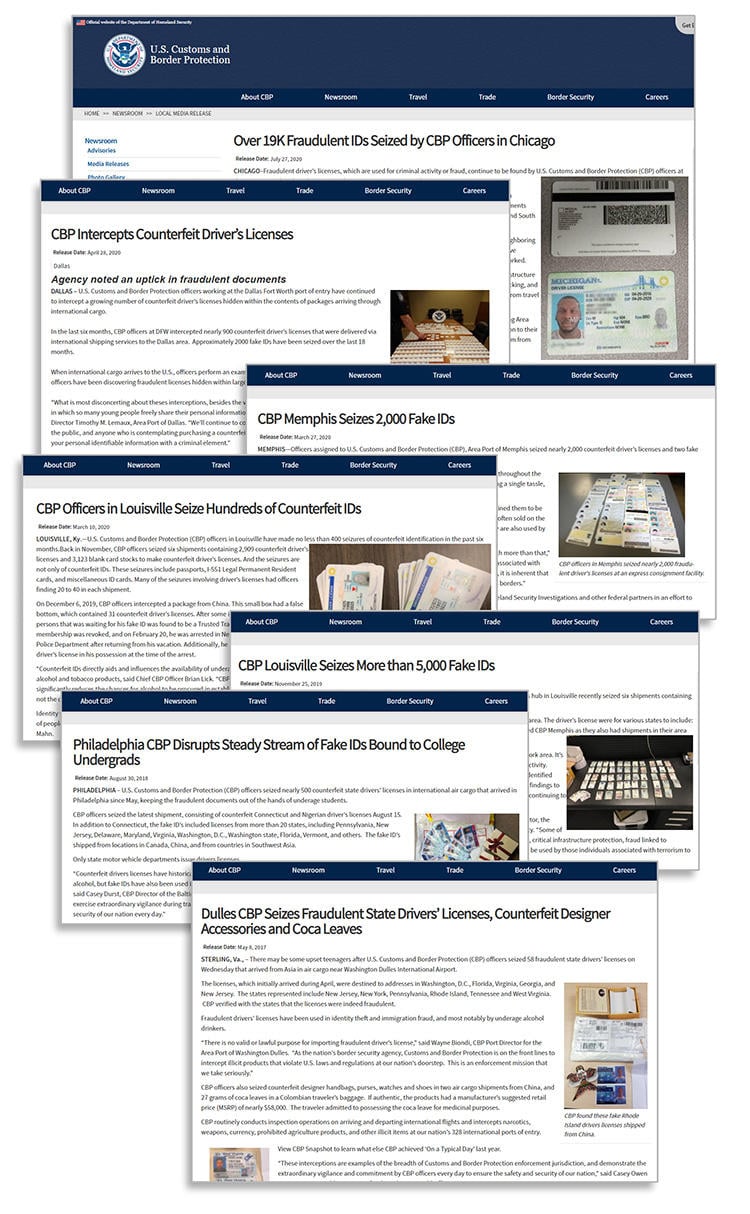 Claim falsehood #2: the origin of the shipments
The Hal Turner radio show says the fake IDs are all coming from China and provides no evidence that just one country is involved. But, the CBP press release clearly says China is not the only supplier of fake IDs, listing Great Britain and South Korea as other points of origin. Supporters of President Trump, like Hal Turner, have sought to reinforce a U.S. intelligence assessment that China's government prefers Joe Biden to President Trump and is interfering in the U.S. election to assist Biden.
Claim falsehood #3: The end purpose of intercepted fake IDs
Again, the Hal Turner radio show has ignored the findings of the CBP investigation of the fake ID trade.
In its description of the case, U.S. Customs says it has found fake IDs facilitate underage drinking and several other forms of fraud, but does not mention voter fraud.Thomas Mahn, the Louisville Port Director was quoted (here) in November of 2019 and this same excerpt was used in the Chicago report:
...the reasoning for buying fake IDs has evolved from teenagers trying to get into bars to more nefarious activity. Some of the major concerns as it relates to fraudulent identity documents is identity theft, worksite enforcement, critical infrastructure protection, fraud linked to immigration-related crimes such as human smuggling and human trafficking, and these documents can be used by those individuals associated with terrorism to minimize scrutiny from travel screening measures.
Other concerns raised by CBP in the press releases: proceeds from the fake IDs might fund terrorism and young Americans ordering the IDs might be putting themselves at risk for identity theft by sharing personal information with criminals overseas.

Claim falsehood #4: the usefulness of fake ID in fraudulent voting
The IDs CBP seized were not all addressed to Illinois residents. Many were bound for neighboring states.
The Hal Turner radio show made a claim that does not appear to have a source, that the IDs were all Registered to Vote - ALL Democrat! Lead Stories reached out to Matt Dietrich, the Public Information Officer of the Illinois State Board of Elections to ask him if there was anything to this claim that the fake IDs seized in Chicago could be used to vote for Democratic candidates. He explained:
Illinois does not require ID at polling places. It's the voter's signature that is checked to verify identification. And Illinois voters do not declare a party affiliation when they register to vote. A voter's party affiliation can be inferred based on the party ballot the voter chose at the most recent primary election, but there is nothing in the registration system that attaches a party affiliation to a voter's name or voter ID.

In order to determine this, you'd have to look up every individual's voting record and determine whether they took a Democratic or Republican ballot at the last primary they voted in.

As for voter registration, you need a valid Illinois driver's license to use our online voter registration portal, but you'd also need other personally identifiable information to complete the process. The driver's license is necessary because the registrant's signature is captured from the license record.

For in-person registration, a valid driver's license can be one of the two forms of ID required. An applicant would need another form of identification - typically a utility bill or other mail to the voter's address. But local election authorities also check Social Security numbers on applications, so a fake driver's license number that doesn't match up with a record at the Secretary of State's Office would raise a red flag.
This website of the National Conference of State Legislatures includes the interactive map (pictured below) which shows most states have even tougher voter registration requirements than Illinois. The following link provides Voter Identification Requirements for each state, as does the graphic taken from that site.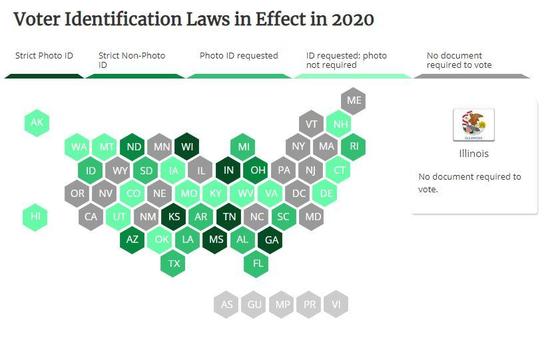 The U.S. government's web portal includes information on Voter ID Requirements across the country as well as how to Register to Vote.