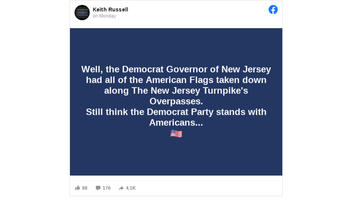 Did the Democratic governor of New Jersey have all the American flags taken down from highway overpasses? No, that's not true: Gov. Phil Murphy was against the flag ban, which was proposed by the New Jersey Turnpike Authority and the ban has subsequently been suspended.
The claim appeared in a meme (archived here) published by Facebook on September 7, 2020. The meme read:
Well, the Democrat Governor of New Jersey had all of the American Flags taken down along The New Jersey Turnpike's Overpasses. Still think the Democrat Party stands with Americans...
This is what the post looked like at the time of writing:
(Source: Facebook screenshot taken on Thu Sep 10 13:47:42 2020 UTC)
The move to ban the flags, many of which first popped up in the wake of 9/11, was initiated by the New Jersey Turnpike Authority (NJTA). In a statement, the agency said:
While we appreciate the desire of some New Jersey residents to express their patriotism in these turbulent times by displaying flags on Turnpike and Parkway overpasses, Turnpike Authority regulations do not allow it, and for good reason. The Turnpike and Parkway run through more than 100 municipalities and include more than 1,100 bridges and other structures. The NJTA cannot adequately monitor flags mounted by private citizens to make sure they are safely and securely hung, properly displayed, and respectfully maintained.
The plan drew a good deal of criticism, from veterans groups and lawmakers alike.
The governor was asked about the hot-button issue during a press conference Tuesday, September 8, 2020. (You can see the transcript of that conference here.) Murphy responded that the ban has been suspended. Here's what he said:
The Turnpike Authority was raised in an interview I did this morning. I didn't like what I heard. You know, we are the greatest nation on Earth even though we're far from perfect, and our flag represents that nation. After I got off the call, we spoke to the team and at least for the time being, the Turnpike Authority has suspended doing that until we find a good way forward.
In other words, the governor is not in favor of removing flags from overpasses -- so much so that he overruled the NJTA. For now, the ban is suspended.