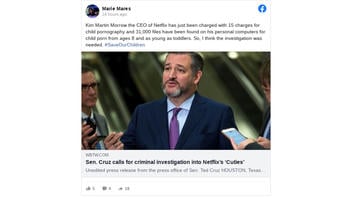 Was "Kim Martin Morrow the CEO of Netflix" charged with 15 charges for child pornography? No, that's not true. Kim Martin Morrow is not the CEO of Netflix -- that is Reed Hastings -- and neither has been charged on 15 counts for child pornography. The story on someone named Morrow and pornography charges is completely made up, as was a previous story about Hastings being arrested and charged with the same details -- a claim that Lead Stories recently debunked.
The new claim appeared as a post (archived here) where it was published on Facebook on September 16, 2020. It opened:
Kim Martin Morrow the CEO of Netflix has just been charged with 15 charges for child pornography and 31,000 files have been found on his personal computers for child porn from ages 8 and as young as toddlers. So, I think the investigation was needed. #SaveOurChildren
This is what the post looked like on Facebook at the time of writing:
(Source: Facebook screenshot taken on Wed Sep 16 19:31:26 2020 UTC)
The Facebook post was accompanied by a link to a news story about Sen. Ted Cruz, R-Texas, calling for a criminal investigation into the Netflix movie "Cuties."
"Cuties" has created a controversy, with critics claiming it promotes pedophilia, and the director of the film defending her work saying it exposes the sexualization of young girls.
Reed Hastings co-founded Netflix in 1995. The post claimed "Kim Martin Morrow" was the CEO, which is inaccurate. Hastings has been the CEO since 1998.
The allegations that Kim Martin Morrow was "charged with 15 charges for child pornography and 31,000 files have been found on his personal computers for child porn from ages 8 and as young as toddlers," are also false. In fact, it is not clear who "Kim Martin Morrow" refers to, and Lead Stories was unable to establish an identity for such a person in any connection to Netflix.
As Lead Stories previously reported, the claim about Hastings was published by TorontoToday.net, a known fake news website, and there is no evidence from local, state, or federal law enforcement that Hastings was arrested. In fact, Hastings was interviewed by CNN on September 10 -- when the purported raid of his Santa Cruz, California, home supposedly was happening -- and he has been active on Twitter in the days since. The details of the false story appear to have been stolen from a December 2019 article about the arrest of the CEO of a Utah company.
The details apparently were copied from a Utah news article titled Utah CEO arrested for possession of over 13,000 child pornography images published on December 19, 2019. Copied details include the claim that:
13,020 files were sent to the National Center for Missing and Exploited Children where 279 of the submitted files were identifiable child victims.
The TorontoToday.net article about Hastings' purported arrest, which has since been deleted, had the headline, "Netflix CEO gets BUSTED with 13,000 files of CHILD PORNOGRAPHY":
September 12, 2020 Los Gatos, California The CEO of a Netflix - Reed Hastings - has been caught by FBI agents with 13,000 files of child pornography. He was arrested at his home in California. He is facing 11 charges related to the seizure of more than 13,000 files of graphic child pornography on his computer and various removable storage units."

Netflix and Hastings have been targeted by those who claim the streaming service's movie "Cuties" promotes pedophilia. Sen. Cruz wrote a letter to U.S. Attorney General William Barr calling for the investigation:
The film routinely fetishizes and sexualizes these pre-adolescent girls as they perform dances simulating sexual conduct in revealing clothing, including at least one scene with partial child nudity. These scenes in and of themselves are harmful. And it is likely that the filming of this movie created even more explicit and abusive scenes, and that pedophiles across the world in the future will manipulate and imitate this film in abusive ways."

The French director of the film, Maimouna Doucouré, defended the message and said it was well-received by audiences at the Sundance Film Festival in early 2020.
"They really see what made the film, because it's a universal issue. It's not only about French society. That hyper-sexualization of our children is everywhere. It's through social media,"
TheWrap reported Doucouré said. "American people when I was at Sundance, they agreed with that, and told me that the film is important to open eyes to this issue and try to fix it."
Netflix released a statement about the movie:
'Cuties' is a social commentary against the sexualization of young children. It's an award-winning film and a powerful story about the pressure young girls face on social media and from society more generally growing up -- and we'd encourage anyone who cares about these important issues to watch the movie."
TorontoToday.net has previously published baseless claims debunked by Lead Stories, including:
Fact Check: Vladimir Putin's Daughter Did NOT Die After Second Dose Of COVID-19 Vaccine
Fact Check: Officials Did NOT Say California Wildfires Were Coordinated Arson
Fact Check: Chadwick Boseman Was NOT Poisoned; No Homicide Investigation