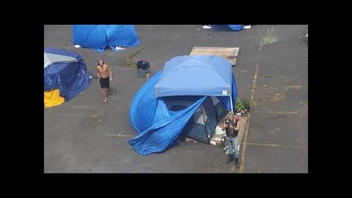 Does a video show a secret Portland Antifa "anarchist" camp where "rioters" are staying as protests rage in the city? No, that's not true. A video that was shot in Portland, Oregon, shows two outdoor homeless camps that were set up by the city and have been in operation for longer than the protests Portland have been going on. It is not a camp for "Antifa" protesters, but an area set up for the city's homeless, a city spokesman confirmed.
The claim appeared as a video published on YouTube by the account "Never Alone With Christ" on August 31, 2020 , titled "The City of Portland Houses #RoseCityAntifa (#TrumpetMan) - Portland's #CHAZ/#CHOP??: 39" (archived here), and which opened with a male narrator saying:
"Hola como estas mi amigos. Welcome to my channel. I find myself currently over here close to Hawthorne Bridge ... I've been wondering where this large crowd of agitators has been coming from for the last 90 days and I think I discovered where such a large crowd of agitators can house themselves and stage themselves ..."
Click below to watch the video on YouTube:
The narrator claims he is close to Hawthorne Bridge and shows a fenced in area that has multiple blue tents placed apart from each other. He says:
This is a war encampment. A number of these individuals have been sent to Kenosha but this is a legitimate issue right here I would say. This is funded by the city and what it houses is absolute anarchists. People that refuse to conform and cause damage every single night and then get to come back and are housed and given money and protected under the same rights and liberties that they spit upon."
The man also claims in the 3:44 video "this is where the rioters are housed," and "this is where anarchists live."

In the description of the YouTube video, it notes:
I'm not filming General homeless individuals. This encampment is filled with young vibrant people who are actively, at night, committing crimes, and burning Portland to the ground... There is usually 2 large buses that are close by, school type buses, but they must have sent them somewhere. I've been in this area a couple few times this is the first time I filmed it..."
Denis Theriault, the communications coordinator for the Joint Office of Homeless Services, which opened the camps, told Lead Stories the area is for homeless people and specifically focused on providing temporary housing for people in Portland who identify as LGBTQ and BIPOC. County Commissioner Jo Ann Hardesty's office denied they are where Antifa "rioters" are staying, and the Portland police told Lead Stories there was not any police activity in the area.
The temporary homeless shelters were covered by locals news outlets OregonLive.com and the Portland Tribune in April 2020.
Theirault confirmed to Lead Stories the video shows the homeless camps on Southeast Water Avenue and one near the westside base of Broadway Bridge in Portland.
"These have been open for so long," Theriault explained, saying these camps were established for LGBTQ people and for BIPOC people needing shelter.
There is specific outreach and a screening process to get into these camps. We've had a hard time filling these spots as the outreach takes a long time. People need to apply then people are screened and if they are determined to be a fit then they are allowed to live there."
He gave the timeline of the camps, which predate the protests that began after May 25, 2020, when George Floyd was killed. "They've been open and in the works for months before the death of George Floyd," Theirault said.
The camps are on city land that will be developed at some point and they are temporary. The city of Portland budget is funding the camps which cost about $175,000 a year, including staff and services like toilets, hand washing stations and electricity. Another organization brings in mobile showers for the camps. Some of the staff members live in the camps.
Theriault said they were not concerned about Antifa protesters coming to the caps. "We have so many people that are here and have the relationships with the outreach teams."
Theriault also said the police have not come to the camps "in any capacity because of the protests."
A claim in the video is there were busses in the area, implying that they took the people from the camps to protests. "Sometimes people live in busses and park them," Theriault said. "Old busses that people are living in. There is a shuttle bus that circulates through the central east side of the neighborhood to bring people to restaurants," but there were no busses transporting people to the protests, he said.
Theriault also said there was no policy in place forbidding residents from attending the protests.
"We don't condition someone's stay in shelter based on their political leanings. As long as they're not engaging in hate speech or bullying other residents we don't discriminate against people's political beliefs."
County Commissioner Hardesty's office told Lead Stories, "The claim that these houseless camps are places to hold protesters is completely untrue, and an incredibly dangerous claim. Our most vulnerable community members are now being targeted online based on these unfounded rumors."

They were unaware if people were attending the protests but defended their right to do so.

"They are community members like anyone else and have a right to free speech and assembly, but that's not what the camps were created specifically for. The camps were simply created to help folks who are struggling due to resources being closed during COVID, such as shelters, bathrooms, places to eat, etc."
Lt. Greg Pashley with the Portland Police Department told Lead Stories, "I am not aware of police involvement in the camps. Police respond to camps if called, like anywhere else."
The video claims to have spotted "Trumpet Man," a man recognized in Portland for playing the trumpet and participating in the protests.
Lead Stories could not confirm if the man in the video was "Trumpet Man," but reached out to him for comment and will update the story if there is a response.