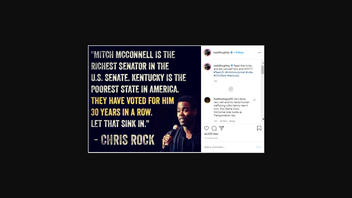 Is Mitch McConnell the richest senator and is Kentucky, which he represents, the poorest state? No, that's not true: There are at least eight senators who have a higher net worth than Senate Majority Leader McConnell, and at least four states and a U.S. territory that have a lower median household income than Kentucky.
The claim appeared in a meme that has been around for several years, attributed to comedian Chris Rock although it's not certain that Rock actually said it or wrote it. It has appeared again recently on social media, including this Instagram post (archived here) on comedian D.L. Hughley's page, published October 14, 2020. The meme's text said:
Mitch McConnell is the richest senator in the U.S. Senate. Kentucky is the poorest state in America. They have voted for him 30 years in a row. Let that sink in.
It might make political points with some, but it's just not true. There are at least eight U.S. senators who have a higher net worth than Mitch McConnell. And at least four states and a U.S. territory have lower household income than Kentucky, the state McConnell represents in the Senate.
Here are the facts:
According to the nonpartisan, nonprofit Center for Responsive Politics website opensecrets.org, McConnell ranks ninth among current senators in personal assets. The ranking is based on May 2019 disclosures that reveal finances through May 2018, the latest year for which they are available.
The research organization estimates McConnell's net worth at $22.5 million. Sen. Rick Scott of Florida tops him by more than $235 million.
According to estimated net worth calculations, Sen. Rick Scott (R-Fla.) is the wealthiest lawmaker with nearly $260 million in net assets. Scott dethroned Sen. Mark Warner (D-Va.) for the top spot after he won election in 2018, despite injecting nearly $64 million of his own money into his campaign.
And their worth may be dwarfed by that of Republican Sen. Kelly Loeffler of Georgia, who took office in January 2020. Said OpenSecrets:
Some lawmakers have not filed one of these reports yet. They include recently appointed Sen. Kelly Loeffler (R-Ga.), who is estimated to be worth over $500 million.
The American Prospect political and public policy magazine says Loeffler is the richest member of Congress, due in part to her husband's wealth:
Her husband founded a stock exchange (Intercontinental Exchange, or ICE) and remains its chairman and CEO; she has a majority stake in a WNBA franchise. They live in a 15,000-square-foot estate in Atlanta.
McConnell's assets are much less than that of some of the other top-worth senators, OpenSecrets reports:
The 116th Congress is flush with newcomers, and many of them have substantial cash. Sen. Mitt Romney (R-Utah), a former private equity executive, is worth an estimated $174 million. Sen. Mike Braun (R-Ind.), who spent $10.5 million of his own money boosting his 2018 campaign, is worth roughly $137 million.
That's not to say that McConnell has not improved his lot in recent years. OpenSecrets notes:
The leaders of both chambers make the top 10 list. House Speaker Nancy Pelosi (D-Calif.) has seen her wealth increase to nearly $115 million from $41 million in 2004, the first year OpenSecrets began tracking personal finances. Senate Majority Leader Mitch McConnell (R-Ky.) saw his net worth increase from $3 million to over $34 million during that time. Both political leaders are married to affluent individuals who are driving those increases.
Nor is Kentucky the state with the lowest median income, as the meme asserts.
The World Population Review ranks Kentucky as the sixth-poorest state or territory with a median income of $67,110. This is their ranking, with the poorest at the top spot:
The Friends Committee on National Legislation, a Quaker organization, ranks the Kentucky poverty rate among the top 10 in the Unites States, with 16.3% of people living below the poverty line. It ranked fifth, behind Puerto Rico (43.5% of its people below the poverty line), Mississippi (19.6%), Louisiana (19%) and New Mexico (18.2%).
The committee also ranked the "Top 10 Hungriest States in the U.S." Kentucky ranked seventh with 13.7% of its households experiencing hunger due to economics. States with more hunger were Mississippi (15.7%), West Virginia (15.4%), Louisiana (15.3%), New Mexico (15.1%), Oklahoma (14.7%) and Arkansas (13.8%).