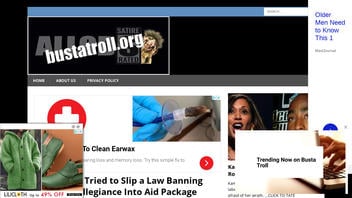 Did Democrats try to slip a law banning the Pledge of Allegiance into an aid package? No, that's not true: This story is a trolling fiction from a notorious satire website.
The story originated in an article (archived here) published by Bustatroll.org on March 24, 2020, under the title "Democrats Tried to Slip a Law Banning Pledge of Allegiance Into Aid Package." It opened:
In stunning new findings released by the Dunning-Kruger Institute, Democrats were found to have added provisions to ban the Pledge of Allegiance, into the emergency aid package. The language, added by Pelosi and Schumer, was very clear of its intention:

"The passing of this legislative package will also outlaw the reciting of the Pledge of Allegiance in all schools in the United States. This statute will go into effect immediately upon this bill's passage. Anyone found guilty of reciting the Pledge will be charged with grand heresy, and punished by up to 10 years in a federal penitentiary and a fine of no less than $20,000."
Screenshot of the 3/25/2020 ALLOD satire post as it appeared on 10/26/2020
The photo used to illustrate the satire article is completely unrelated to this headline. It shows the January 15, 2020, ceremony where the seven impeachment managers who would be leading the prosecution in the impeachment of President Trump in the Senate.
Bustatroll.org is part of the "America's Last Line of Defense" network of satire websites run by self-professed liberal troll Christopher Blair from Maine along with a loose confederation of friends and allies. He runs several websites and Facebook pages with visible satire disclaimers everywhere. They mostly publish made-up stories with headlines specifically created to trigger Republicans, conservatives and evangelical Christians into angrily sharing or commenting on the story on Facebook without actually reading the full article, exposing them to mockery and ridicule by fans of the sites and pages.
Every site in the network has an about page that reads (in part):
About Satire
Before you complain and decide satire is synonymous with "comedy":

sat·ire
ˈsaˌtī(ə)r
noun
The use of humor, irony, exaggeration, or ridicule to expose and criticize people's stupidity or vices, particularly in the context of contemporary politics and other topical issues.

Everything on this website is fiction. It is not a lie and it is not fake news because it is not real. If you believe that it is real, you should have your head examined. Any similarities between this site's pure fantasy and actual people, places, and events are purely coincidental and all images should be considered altered and satirical. See above if you're still having an issue with that satire thing.
Articles from Blair's sites frequently get copied by "real" fake news sites who omit the satire disclaimer and other hints the stories are fake. One of the most persistent networks of such sites is run by a man from Pakistan named Kashif Shahzad Khokhar (aka "DashiKashi") who has spammed hundreds of such stolen stories into conservative and right-wing Facebook pages in order to profit from the ad revenue.

Although originally published in March, the story resurfaced again in late October. The copied fakery appeared in a new form. Rather than posting links to the articles, many people were sharing various screenshots of the article, with the false headline and photo of Nancy Pelosi. Some of the screenshots show the Bustatroll.com URL, while other screenshots show a SITES.GOOGLE.COM url. Were it a live link, viewers would be redirected to anonmags.com, a url that is banned from Facebook.
Anonmags.com webmaster's profile
By only sharing the screenshot with the outrageous headline; this guarantees that Facebook users will not be able to infer the satirical context of the original Bustatroll story with the pseudonymous byline "Harry Helmet" who was reporting findings sourced from the fictional "Dunning-Kruger Institute".

A variety of unique screenshots of this satire article shared as photos on Facebook
Below is an example of information laundering. Regardless if the person who captioned the screenshot, "Watch Facebook is going to say this is false information!" understood that was what they were doing, this is a classic example.
This screenshot is a bridge from inside the private group 'Nancy Pelosi Is A Crazy Bitch,' to Facebook at large. The screenshot prevents the viewer from seeing that Rahul Sharma's profile seems to have been hacked and he is a resident of New Delhi India. His stolen profile is being used to spam links to a bogus foreign website to an American audience in a private group. The Sites.Google.Com URL does not point to the specific article, merely to the service where the page that redirects to Anonmag.com is hosted. The only trace of the once abundant satire clues included in the original Bustatroll.org article, is the small watermark, 'S for satire,' visible on the lapel of Rep. Jerry Nadler.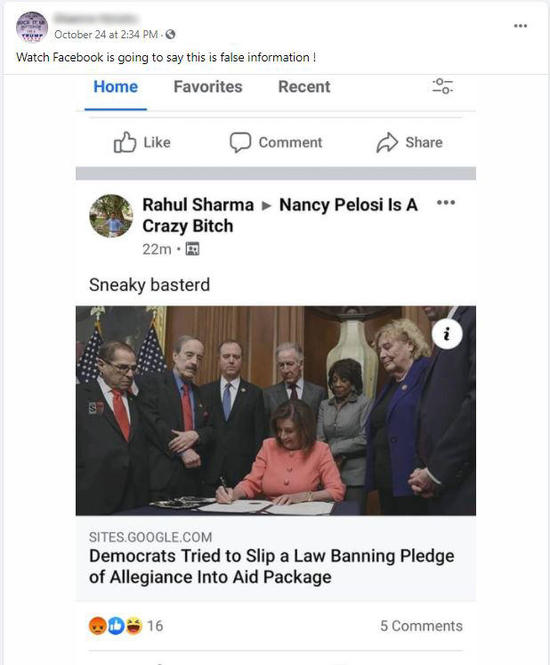 A post of a screenshot: an example of multilayered information laundering
When fact-checkers point this out to the people liking and sharing these copycat stories some of them get mad at the fact checkers instead of directing their anger at the foreign spammers or the liberal satire writers. Others send a polite "thank you" note, which is much appreciated.
NewsGuard, a company that uses trained journalist to rank the reliability of websites, describes bustatroll.org as:
A network of sites that publish false stories and hoaxes that are often mistaken for real news, run by hoax perpetrator Christopher Blair.
According to NewsGuard the site does not maintain basic standards of accuracy and accountability. Read their full assessment here.