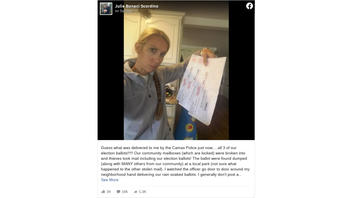 Is it true that mailboxes in Camas, Washington, were broken into and that mail including election ballots was taken and dumped at a local park, where the mail was then rained upon? Yes, this is true. Camas police confirmed the incident and said at least nine ballots were found in the dumped mail. Investigators suggest the theft motivation was likely financial, rather than political, gain. The U.S. Postal Inspection Service is aware of the theft, but refused to say whether a postal investigation was underway because it involved election mail. Camas police returned what mail was found to its intended recipients.
The story is found in a post (archived here) published to Facebook on October 18, 2020. The post began:
Guess what was delivered to me by the Camas Police just now.....all 3 of our election ballots!!!!! Our community mailboxes (which are locked) were broken into and thieves took mail including our election ballots! The ballot were found dumped (along with MANY others from our community) at a local park (not sure what happened to the other stolen mail).
This is what the post looked like on Facebook at the time of writing:
(Source: Facebook screenshot taken on Tue Oct 20 22:26:41 2020 UTC)
The post, which contained an update from the poster saying police "DO NOT believe this was politically motivated ..." continued:
I watched the officer go door to door around my neighborhood hand delivering our rain soaked ballots. I generally don't post anything political, but this needed to be shared. Not even sure who I file a complaint with. I am just so completely frustrated. **Update** The Camas Police DO NOT believe this was politically motivated or that the ballots taken were the intended target. It is most likely that the mail thieves were taking all mail from the boxes and those of us who had ballots in our boxes had their ballots taken. I am still very upset that our locked mailbox was broken into, and that the contents was stolen, and that it happened to contain our ballots that were then tossed into a park. My neighbor has a video of the left on their Ring camera, sadly too hard to make out the person or vehicle. I am not blaming anyone but the crook(s), who I hope is caught. Much love friends.
The story is true, according to local officials. Camas police were still trying to idenify what appears to be a white car believed to have been used during the breaking open of the locked mailboxes around the neighborhood near Klickitat Park, where a resident spotted the mail.
Sgt. Scot Boyles of the Camas Police Department issued the following statement:
On 10-18-2020, Camas Police responded to a report of found mail near Klickitat Park on Prune Hill. Responding officers contacted a citizen who located various pieces of dumped mail which included six voters ballots. The ballots were intact but wet from the weather. The found mail including the ballots were returned to the owners by police.

During the ensuing investigation, officers found that 4 community style mail boxes had been pried open and some mail stolen from each one. Later in the day an additional 3 voters ballots were located and returned to the owners by police ...

Mail theft is not uncommon and Camas officers respond to similar calls several times a year. In general, the suspects are looking for mail items that can be used for financial gain (checks, credit cards, personal info that can be used for opening fake charge accounts). in these cases the unwanted mail is often dumped nearby, just as the ballots were in this case...
The release also included this somewhat-obscured photograph of the suspect vehicle: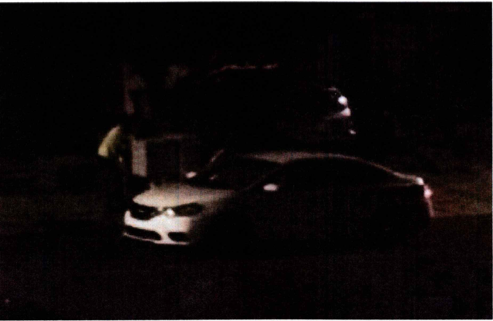 The U.S. Postal Inspection Service declined to comment on the ballots, directing Lead Stories and other media to local authorities. A spokesman for the service did, however, confirm that they were aware of the theft and dumping in Camas.