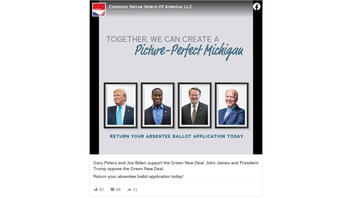 Does Joe Biden support the Green New Deal? No, he has specifically said he does not. Although his campaign website describes the Green New Deal as a "crucial framework," the Democratic presidential candidate supports something he calls the "Biden Plan," which does not include many of the deadlines and provisions of the Green New Deal.
The claim appeared in a political ad (archived here) sponsored on Facebook by the "Common Sense Voters of America LLC." The post included photographs and read:
Gary Peters and Joe Biden support the Green New Deal. John James and President Trump oppose the Green New Deal.





Return your absentee ballot application today!
This is what the post looked like at the time of writing:
(Source: Facebook screenshot taken on Fri Oct 16 20:00:20 2020 UTC)
Gary Peters, D-Michigan, is running to hold his seat in the U.S. Senate. John James is his Republican challenger in the competitive race. This fact check does not examine either man's attitude vis-a-vis the Green New Deal. It explores the facts around Biden's position -- that's all.
Biden made his stance clear during the first presidential debate, held on September 29, 2020, when he was asked whether he supports the Green New Deal. Biden said:
No, I don't support the Green New Deal. I support the Biden Plan that I put forward -- the Biden Plan -- which is different than what he [Trump] calls the radical Green New Deal.
President Donald Trump, suggesting that Biden was staking a new position, responded:
Oh, you don't, oh, well that's a big statement. That means you just lost the radical left.
The Green New Deal is a nonbinding resolution, introduced by Rep. Alexandria Ocasio-Cortez and Sen. Ed Markey last year, to tackle climate change. It lays out a 10-year plan, calling for 100% of U.S. power demand to be met through "clean, renewable, and zero-emission energy sources." It also includes goals for job creation, guaranteeing all Americans a job with a "family-sustaining wage," leave and retirement security.
During the debate, Trump claimed that the cost of the Green New Deal would be $100 trillion. However, there is no Congressional Budget Office cost estimate yet -- and proponents of the deal argue that the cost of doing nothing would be much higher.
Ocasio-Cortez acknowledged the differences between Biden's position and hers after the debate. She tweeted:
This isn't news, Kellyanne.

Our differences are exactly why I joined Biden's Climate Unity Task Force - so we could set aside our differences & figure out an aggressive climate plan to address the planetary crisis at our feet.

Trump doesn't even believe climate change is real. https://t.co/Bj8SMD9Syf

-- Alexandria Ocasio-Cortez (@AOC) September 30, 2020
Biden's climate plan can be found on his campaign website, and mentions the Green New Deal. The site reads:
Biden believes the Green New Deal is a crucial framework for meeting the climate challenges we face. It powerfully captures two basic truths, which are at the core of his plan: (1) the United States urgently needs to embrace greater ambition on an epic scale to meet the scope of this challenge, and (2) our environment and our economy are completely and totally connected.
The two approaches share a focus on creating jobs in the work of slowing climate change, but differ in scope and in specifics. The Green New Deal, for instance, sets a more aggressive timeline for carbon emission reductions.