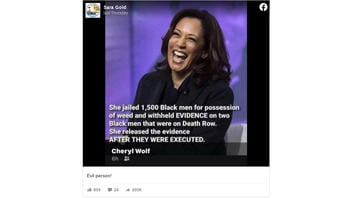 Did Kamala Harris withhold evidence on two Black men who were on death row, then release the evidence after they were executed? No, that's not true. And did Harris, former attorney general of California, jail over 1,500 Black men for possession of weed? That's not true, either. There is no evidence to substantiate either claim.
The claims appeared as a post published on October 9, 2020 by a Facebook page named "Sara Gold " (archived here) with the introductory message "Evil person!" The meme's text, over a picture of Harris laughing, read:
She jailed 1,500 Black men for possession of weed and withheld EVIDENCE on two Black men that were on Death Row. She released the evidence AFTER THEY WERE EXECUTED.
This is what the post looked like on Facebook at the time of writing:
(Source: Facebook screenshot taken on Wed Oct 14 19:12:05 2020 UTC)
The claim Harris "withheld evidence on two Black men that were on Death Row. She released the evidence AFTER THEY WERE EXECUTED," is false.
While there was one death row case that became the subject of an accusation against Harris during the Democratic presidential primary campaign, there was only one case -- and it was not as described in the meme. For one major thing, the defendant was not executed.
The death row case accusation came from Rep. Tusi Gabbard of Hawaii, who was in the July 31, 2019, Democratic debate along with Harris and other presidential hopefuls. Gabbard accused Harris of withholding evidence in one death row case -- but she did not say Harris released it after the man was executed, Fox News reported.
"She blocked evidence that would have freed an innocent man from death row until the courts forced her to do so...In the case of those who were on death row, innocent people, you actually blocked evidence from being revealed that would have freed them until you were forced to do so."
The case Gabbard was referencing was the Kevin Cooper case. Cooper was convicted of quadruple homicide and sentenced to death for the murders in 1983 of Douglas and Peggy Ryen, their 10-year-old daughter Jessica and her friend, 11-year-old Christopher Hughes. Josh Ryen, 8, survived. Just three hours and 42 minutes before his scheduled execution in 2004 a stay was issued to allow for further DNA testing. The testing was never done. Harris was elected as attorney general in 2010 and began serving in 2011.
In 2018 the New York Times did an extensive report on the case, citing alleged evidence that Cooper was innocent and was framed for the murders, noting Harris "refused to allow this advanced DNA testing and showed no interest in the case."
Harris released a statement after the article was published, when she was a U.S. senator, telling the reporter, "I feel awful about this."
My career as a prosecutor was marked by fierce opposition to the death penalty while still upholding the law and a commitment to fixing a broken criminal justice system. I've long been an advocate for measures to improve and make our system more fair and just.
As a firm believer in DNA testing, I hope the governor and the state will allow for such testing in the case of Kevin Cooper.
My career as a prosecutor was marked by fierce opposition to the death penalty while still upholding the law and a...

Posted by Kamala Harris on Friday, May 18, 2018
Harris did not release evidence after his death because Cooper was not executed. There was no evidence released in the case.
In December 2018, outgoing California Gov. Jerry Brown ordered new DNA testing in the case, which is still ongoing, the Los Angeles Times reported.
During the same debate, Gabbard also said about Harris, "She put over 1,500 people in jail for marijuana violations and then laughed about it when she was asked if she ever smoked marijuana," the Mercury News reported.
Gabbard's number seems to have originated from a report on the Free Beacon website which stated 1,500 people were incarcerated across California from 2011 to 2016. The report did not state the race or the gender of the people incarcerated.
Harris was the attorney general during this time, and drug related offenses are mostly prosecuted on the county level. The California Department of Corrections told the Mercury News, "1,974 people were admitted to prison for marijuana and hashish charges during that time period," but those were not directly prosecuted by Harris or her office and the race and gender was not revealed.
Gabbard makes the accusations against Harris in this video from CNN's YouTube channel beginning at 4:20.