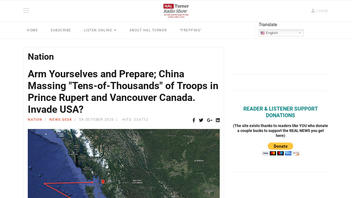 Is China using a treaty with Canada to mass tens-of-thousands of Chinese soldiers on the Canadian border in preparation for a military invasion of the United States? No, that's not true: Local and Canadian officials say there are no Chinese soldiers deployed in western Canada. The treaty cited in the claim does not include provisions that allow China to send military forces to Canada.
The claim appeared in an article (archived here) published by the Hal Turner Radio Show on October 8, 2019, under the title "Arm Yourselves and Prepare; China Massing 'Tens-of-Thousands' of Troops in Prince Rupert and Vancouver Canada. Invade USA?" It opened:
Under a Treaty signed in late 2019 with Canada, the People's Liberation Army of China has been quietly massing military troops in Canada since the beginning of 2020 and those troops are believed to be readying for an actual military invasion of the United States.
This is what social media users saw:
Simply stated, officials in Vancouver, Canada, say there are no Chinese troops amassed there.
"There is nothing of the sort happening here," said an email from Alvin Singh, director of communications for Vancouver Mayor Kennedy Stewart.
"I have not received any reports of any Chinese foreign occupation of this part of Canada," Sgt. Peter DeVries of the Royal Canadian Mounted Police North Vancouver Detachment said in a telephone interview.
Nor is the posting correct about a 2019 agreement between China and Canada. The Canada-China Promotion and Reciprocal Protection of Investments Agreement (also known as the Canada China FIPA) bilateral investment treaty was signed in 2015 by Canadian Prime Minister Harper (not seven years later by Prime Minister Trudeau) and became effective October 1, 2014. There is no recorded troop placement in that agreement.
The complete text of an agreement between China and Canada for the promotion and reciprocal protection of investments can be found here. A Canadian fact sheet on China can be found here.
Two separate officials from the national Canada Global Affairs department did not reply to three email requests for comment. The ministry is not taking telephone calls.
Hal Turner's website has been caught spreading alarmist disinformation in the past, including a claim in December 2019 that the Virginia governor had ordered plans to cut off electricity, telephones, and Internet communications ahead of statewide gun confiscation during the new year. It was false as we concluded in an article titled Fake News: Virginia Governor Has NOT Ordered Plans to Cut Electric, Phones, Internet for Gun Confiscations.