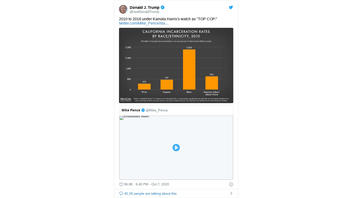 Was Kamala Harris California's "TOP COP" in 2010, making her responsible for the state's Black incarceration rate that year? No, that's not true: Harris served as attorney general of California between January 2011 and January 2017.
The claim appeared in a tweet (archived here) by U.S. President Donald Trump. It was published on October 7, 2020, the day of the vice presidential debate. Trump's tweet included a chart that showed California's incarceration rates, by race, for 2010, as well as a short clip from the debate. The president wrote:
2010 to 2016 under Kamala Harris's watch as "TOP COP."
This is what the post looked like on Twitter at the time of writing:
(Source: Twitter screenshot taken on Mon Oct 12 14:49:39 2020 UTC)
The chart, which was credited to the Prison Policy Initiative and based on figures from the 2010 Census, showed California's incarceration rate for African Americans as 3,036 per 100,000 people. The rate for whites appeared as 453 per 100,000 people.
In his post, Trump is clearly trying to imply that Harris should be held responsible for the relatively high rate of incarceration among African Americans in California in 2010.
That's not a fair suggestion.
Harris did not become attorney general until January 2011.
Trump's allegation was echoed by Vice President Mike Pence during the vice presidential debate. The president's tweet included a short video from that debate, during which Pence said to Harris:
When you were attorney general of California, you increased the disproportionate incarceration of Blacks in California."
Lead Stories reached out to the Prison Policy Initiative to see whether the nonprofit had figures for the years after 2010. We will update this story when we hear back.
On its website, the Prison Policy Initiative discusses some of the difficulties involved in obtaining data. It said:
There are only a few data sources for state-level data about racial disparities in the criminal justice system that encompass both prisons and jails, and even fewer that allow analysis by gender, or by race/ethnicity for groups other than just Black and white. The 2010 U.S. Census is one of those data sources."
As results from the 2020 Census are not yet available, we can't do an apples to apples comparison.
However, we do know -- based on a study from the Public Policy Institute of California -- that the share of African Americans incarcerated in the state fell during the years that Harris was attorney general. Here's a relevant figure from that study: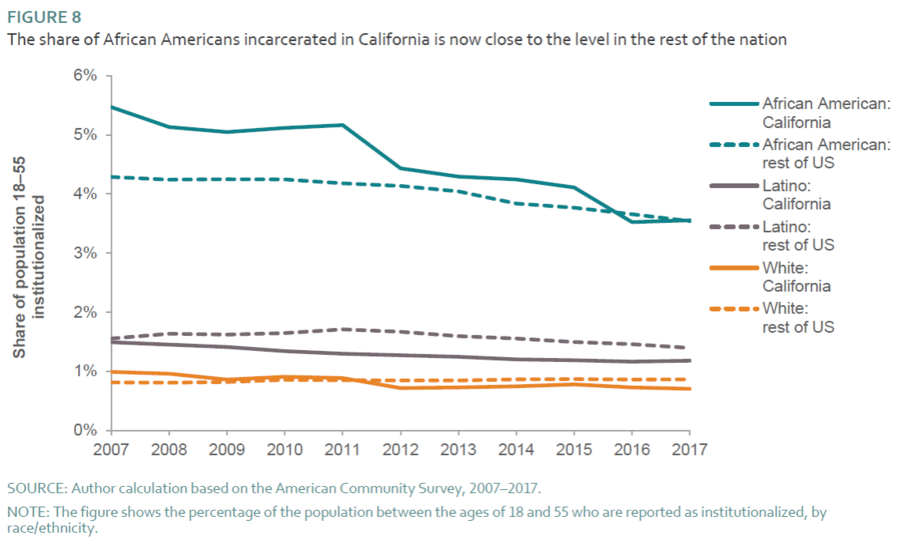 Note that the chart only looks at ages 18-55; rates based on the entire population would be lower.
Also note that while the incarceration rate fell, African Americans remain overrepresented in the state's prison population.