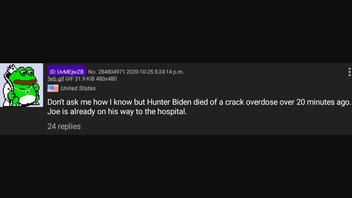 Did Hunter Biden die of a crack overdose? No, that's not true: There is absolutely zero evidence to support the claim that the son of the Democratic presidential nominee is dead. Reporters closely watching the movements of his father Joe Biden also did not observe the former vice president rush to a hospital as claimed.
The claim appeared in a 4chan post (archived here) on October 25, 2020. The post was made by an anonymous user. It read:
Don't ask me how I know but Hunter Biden died of a crack overdose over 20 minutes ago. Joe is already on his way to the hospital.
Users on social media saw this:

The post offered no proof to support its claim, going so far as to say "don't ask me how I know." Nevertheless, it was picked up and reported across social media.
One Twitter user, whose account has since been suspended for violating the platform's rules, suggested that the 4chan poster was the same poster who correctly reported the death of disgraced financier and sex offender Jeffrey Epstein, before it was officially announced.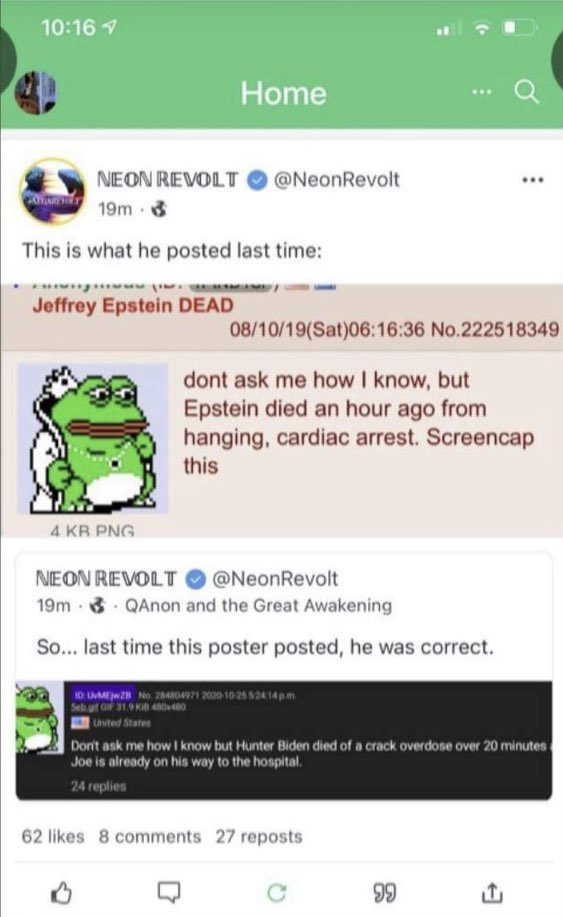 Lead Stories could not immediately confirm whether the 4chan user who posted about Hunter Biden, 50, is the same person who posted about Epstein.
We reached out to the Joe Biden campaign for comment. We will update this story if we receive a response.
On Sunday, October 25, 2020, Joe Biden attended church in Wilmington, Delaware, near his home. He returned to his residence and, besides an appearance at a virtual concert that night, had no other events. Biden had his press pool, which would have reported on any known movements.
The younger Biden lives in Los Angeles. He has spoken publicly about his struggle with addiction and has been in the headlines recently. This month, The New York Post published a front-page article based on materials that were purportedly taken from the hard drive of his laptop. Other news organizations have not been permitted to see the contents of the supposed hard drive.
Here a look at our latest coverage on Hunter Biden: