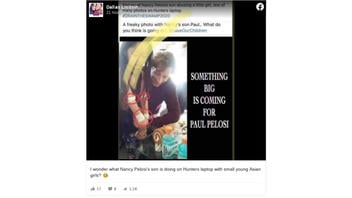 Does a photo posted to social media show Nancy Pelosi's son abusing a little girl? And is the image one of those purported to have been on Hunter Biden's laptop? No, that's not true: The photo is not new. It was published last year as part of an article about Paul Pelosi Jr. Also, the image does not show abuse. The little girl in the photo is cutting a cake as the son of House Speaker Nancy Pelosi looks on.
The claim appeared in a Facebook post (archived here) on October 25, 2020. The post included a message and a meme, which had both text and the photo of Pelosi Jr. with a young girl. The message asked: "I wonder what Nancy Pelosi's son is doing on Hunters laptop with small young Asian girls?" The meme read, in part:
Picture of Nancy Pelosis son abusing a little girl, one of many photos on Hunters laptop. #DRAINTHESWAMP2020
This is what the post looked like at the time of writing:
(Source: Facebook screenshot taken on Mon Oct 26 14:16:31 2020 UTC)
Contrary to what the post alleges, the photograph did not originate from the infamous purported laptop of Hunter Biden, son of Democratic presidential nominee Joe Biden. The photo of Pelosi Jr. illustrated an article, posted in December, 2019 by National File, about Pelosi Jr.'s life. Specifically, the story detailed his dealings with a woman named Karena Feng, who is identified in the story as a "Taiwan-born woman living in San Francisco" and Pelosi Jr.'s "ex-companion." In the context of the article, it's clear that the girl in the photograph, cutting the cake, is one of Feng's children.
Also contrary to what the post claims, the photograph does not show abuse. It shows a young girl cutting a cake as Pelosi Jr. sits beside her and watches. The girl has white material wrapped around her elbows and wrists. They are circled in red, giving a sinister tone to an otherwise neutral photograph.
This month, The New York Post published a front-page article based on materials that were purportedly taken from the hard drive of a laptop belonging to Hunter Biden. According to The Post, which cited the store's owner, the computer was dropped off at a repair shop in Delaware. The owner reportedly made a copy of the drive and gave it to former New York Mayor Rudy Giuliani's lawyer. Giuliani, who is Donald Trump's lawyer and publicly announced he was traveling to Ukraine to look for evidence of Biden's misdeeds, is then said to have given it to The Post.
The article has been met by skepticism by most of the news media, which has not been permitted to see the contents of the supposed hard drive. None of the article's allegations has been independently verified. In spite of that fact, or maybe because of it, social media is rife with unverified claims about what's on the supposed laptop. Lead Stories has covered some those claims, and related stories, as can be seen here, here and here.
NewsGuard, a company that uses trained journalist to rank the reliability of websites, describes nationalfile.com as:
A website that has repeatedly published conspiracy theories and other false information and does not disclose its agenda.
According to NewsGuard, the site does not maintain basic standards of accuracy and accountability. Read their full assessment here.