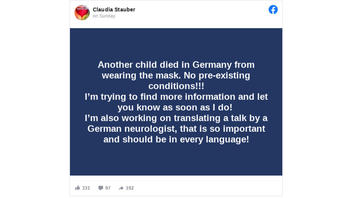 Did a German schoolchild die as a result of wearing their required mask in school? No, there's no evidence: The person making the claim provided no evidence, not even the place, age or date of death. Police in the Lower Franconia region of Bavaria have labelled a related claim a hoax and asked social media users to stop spreading it.
The claim was made in a Facebook post (archived here) published September 27, 2020, by Vermont conspiracy monger Claudia Stauber under the title "Another child died in Germany from wearing the mask." It opened:
No pre-existing conditions!!! I'm trying to find more information and let you know as soon as I do! I'm also working on translating a talk by a German neurologist, that is so important and should be in every language!
This is what the post looked like on Facebook at the time of writing:
(Source: Facebook screenshot taken on Thu Oct 1 23:11:46 2020 UTC)
Stauber is a serial misleader involved in the anti-vaccine movement. She has in the past helped to spread the false claim that Australia had privatized its police. Earlier this year, she vouched for the accuracy of the repeatedly debunked "Plandemic" films, which claim Microsoft Founder and health philanthropist Bill Gates is the mastermind of a COVID plot for global dominion. Lead Stories debunked a September post of Stauber's that misused numbers from a computer modeling document as "proof" of her claim that COVID-19 is less lethal than seasonal flu.
Stauber's claim about the death of a German child closely resembles claims made in a streamed video by Dr. Bodo Schiffmann, a German otolaryngologist (ear, nose and throat) and conspiracy theorist whose past claims about COVID and other topics have been fact-checked and blocked from spreading online. Schiffman, who has linked arms with American anti-vaccine movement leader Robert F. Kennedy, Jr., now posts his videos on BitChute, an un-moderated video platform. Hope Not Hate, a U.K. human rights group says BitChute is favored by white supremacist and nationalist groups in Europe because it does not block or demonetize objectionable content and that it also hosts conspiracists whose false claims are blocked by mainstream platforms like Facebook and Twitter.
German police have asked Germans to stop spreading the claim Stauber is now spreading. On October 1, 2020, the Lower Franconia Police Department posted a warning on its Twitter account that mask critics are spreading a hoax about a 6-year-old dying from wearing the mask schools have required since re-opening on August 12. Their tweet looked like this: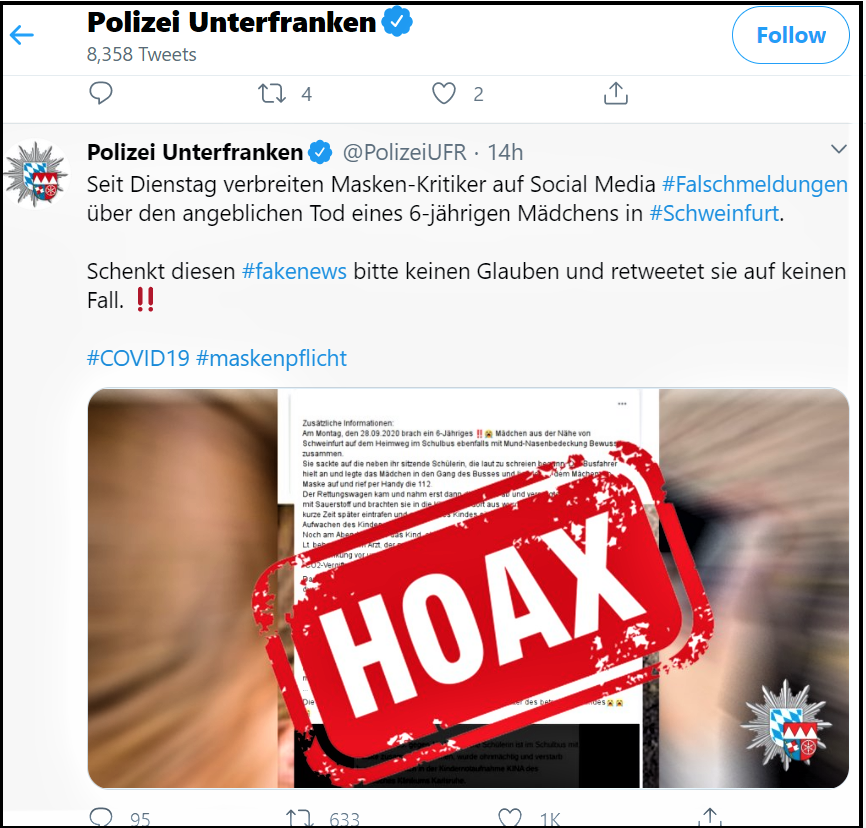 (Source: Twitter screenshot taken on Thu Oct 1 23:00 2020 UTC)
A rough translation, using Google Translate, renders the police tweet as follows:
Since Tuesday, mask critics have been spreading false reports on social media about the alleged death of a 6-year-old girl in #Schweinfurt.
Please don't believe these #fakenews and don't retweet them under any circumstances.
Lead Stories has reached out to officials at the German Embassy and directly to police in Germany to ask if any such deaths have been recorded in Germany. This report will be updated, if appropriate, when they respond.
Most U.S. schools have not been in session since the early days of the pandemic. On October 1, 2020, the U.S. Centers for Disease Control and Prevention reported so far in the pandemic, 3,240 school-aged children with COVID-19 have been hospitalized and 51 died.