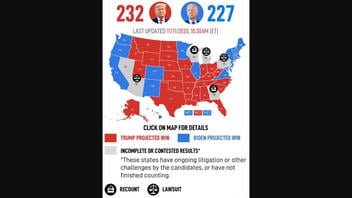 Does The Epoch Times' map that shows 232 electoral votes for Donald Trump and 227 for Joe Biden tell the whole story about the state of the 2020 presidential election? It's missing context. The conservative news outlet claims that the election outcome is unclear, pointing to six states that it says has incomplete or contested results. Lead Stories did a deep dive on each of those states and found a much more nuanced picture than the one captured by the map. Our results are below.
The map could be seen on The Epoch Times' election landing page (archived here). The headline read:
ELECTION OUTCOME UNCLEAR AMID PENDING RECOUNTS AND LEGAL CHALLENGES
Users on social media saw this:
The Epoch Times election map as of today.https://t.co/ZCGTP5etWB pic.twitter.com/KHGZ2SxiBo

-- Gun Guy (@gunguytv) November 11, 2020
Virtually all news organizations, including Fox News, CNN and the Associated Press, have called the election for Biden. The Epoch Times, however, claims that both he and Trump are still shy of the 270 electoral votes needed to win the presidency. It identifies six states where it reports results as either incomplete or contested: Georgia, Pennsylvania, Michigan, Wisconsin, Arizona and Nevada. Note the disclaimer at the bottom of the map, which reads:
This map is updated as legal challenges and recounts are resolved or new ones are announced. For states where lawsuits, recounts, or other challenges are pending, the state is not designated to a specific candidate but rather marked gray.
That disclaimer is cut off from many copies of the map circulating online.
Also note that all six of the gray states are battleground states. Here's a closer look at what's happening in each one:
ARIZONA
Biden is ahead of Trump in Arizona by more than 11,000 votes.
Speaking to Fox Business on November 11, 2020, Arizona Attorney General Mark Brnovich, a Republican, explained the situation, saying:
The reality is, right now, there's less than 50,000 votes to count, and the President would have to get about 65% of them to win Arizona. So it does appear that Joe Biden will win Arizona.
He discussed two challenges to election results in his state. The first involved a claim that the use of Sharpies could have invalidated ballots -- an allegation that Lead Stories has previously debunked. That suit was dropped. A second lawsuit has to do with Maricopa County poll workers, who were accused of improperly rejecting votes cast on Election Day. About that second challenge, Brnovish told Fox Business:
We are literally talking about less than 200 votes that are in question ... Even if it was possible that those votes flip, those 200 votes, I do not think it will make a difference in Arizona, just because of the numbers.
GEORGIA
Biden leads Trump in the Peach State by some 14,000 votes.
That tight margin focused attention on Secretary of State Brad Raffensperger, a Republican, who announced a recount this week. He said:
With the margin being so close, it will require a full, by-hand recount in each county. This will help build confidence. It will be an audit, a recount and a re-canvass all at once. It will be a heavy lift, but we will work with the counties to get this done in time for our state certification.
You can watch his full press conference here:
When asked at that conference about the possibility of the recount changing the outcome of the election in Georgia, Raffensperger declined to answer. However, he has previously said that he does not believe the alleged cases of illegal voting would rise to the level of flipping the state's electoral votes for Trump.
The audit is expected to be complete by November 20, when Georgia must certify its results.
MICHIGAN
Biden is ahead of Trump in Michigan by approximately 146,000 votes, the largest number of votes in this list. The Trump campaign and Republicans are challenging the result in court.
Judges have so far rejected two such suits. Wayne County Circuit Judge Timothy Kenny denied a motion for injunctive relief that would have delayed the certification of election results, while Michigan Court of Claims Judge Cynthia Stephens denied a request to halt the counting of absentee ballots.
Following their decisions, the office of Attorney General Dana Nessel, a Democrat, released a statement. It read:
Chief Judge Kenny's quick decision mirrors a decision yesterday by Court of Claims Judge Stephens - specifically, that, once again, the allegations are mere speculation. The swift, clear and decisive opinion should put to rest the meritless claims that have been made in Michigan and other states around the country. We have always been committed to a fair, transparent and secure election that ensures every legal vote is counted - and we will continue to do that.
Other litigation is pending, including a federal lawsuit that seeks to invalidate all the votes in three counties -- Wayne, Washtenaw and Ingham -- citing allegations of fraud. The move would strike more than 1.2 million votes and would flip Michigan for Trump.
Aghogho Edevbie, director of the Michigan chapter of All Voting is Local, a national voting-rights advocacy group, said that such a decision would be unprecedented. Bridge Michigan reported he said:
I've never ever heard of a situation where ballots are thrown out as a remedy. Ever ... The reason is it would disenfranchise so many people. That's why it's never been done.
WISCONSIN
Biden has close to 20,500 more votes than Trump in the Badger State. The counts stand at 1,630,503 and 1,610,076, respectively.
Because the margin is less than 1%, Trump has the right to request a recount, which his campaign has said he would do. One day after the election, Trump's campaign manager issued a statement saying as much, and cast doubt on the results. He said:
Statement from @BillStepien on Wisconsin recount request: pic.twitter.com/6YiNB8HRo6

-- Tim Murtaugh (@TimMurtaugh) November 4, 2020
The campaign is not able to request a recount until all counties finish certifying their results. That's reportedly not expected to happen until the deadline on November 17, 2020.
Previous recounts in Wisconsin have altered vote counts but not changed the outcomes of elections, according to Wisconsin Public Radio (WPR). In 2016, Green Party candidate Jill Stein requested a recount, which resulted in roughly the same margin of victory to Trump. In total, some 1,500 votes were changed, WPR reported. It cited a tweet from former Wisconsin Gov. Scott Walker, who described Biden's more than 20,000-vote lead as a "high hurdle." He wrote:
After recount in 2011 race for WI Supreme Court, there was a swing of 300 votes. After recount in 2016 Presidential race in WI, @realDonaldTrump numbers went up by 131.

As I said, 20,000 is a high hurdle. #Election2020 https://t.co/CEr82eiCWH

-- Scott Walker (@ScottWalker) November 4, 2020
PENNSYLVANIA
Biden similarly has the advantage in the Keystone Stone, registering more than 58,000 more votes than Trump. Approximately 43,000 mail-in ballots remain to be tallied, but that number isn't enough to flip Biden's lead.
Trump has not conceded and his campaign has filed a number of lawsuits in Pennsylvania. Among them is a suit that sought to stop vote counting in Philadelphia (dismissed) and one that sought to allow election observers to stand closer to poll workers processing ballots (granted). Other ongoing litigation has to do with whether ballots received after the close of polls on Election Day should count. Elections officials have said that around 10,000 votes may fall into that category -- not enough to change the outcome of the election in Pennsylvania.
On Monday, the Trump campaign announced a new federal lawsuit against the secretary of state and select counties, alleging violations of equal access and treatment, and seeking to stop the state from certifying a Biden win. Pennsylvania Attorney General Josh Shapiro, a Democrat, described it as the "latest meritless lawsuit." On Twitter, he wrote:
I am confident PA law will be upheld and the will of the people of the Commonwealth will be respected in this election.

-- AG Josh Shapiro (@PAAttorneyGen) November 9, 2020
NEVADA
Biden also leads in Nevada. He has 671,955 votes to Trump's 635,089.
Like in other states, Republicans have challenged Nevada's election in lawsuits, including at least two in Clark County, which includes Las Vegas. One sought an emergency injunction to stop the use of an automated signature-verification machine for mail ballots. It was rejected. Another sought to stop the processing of mail ballots. It was also rejected.
Nevada Attorney General Aaron Ford, a Democrat, addressed the lawsuits during an interview with Yahoo! Finance on November 9, 2020. He said:
They continue to come with frivolous, baseless claims of speculation about voter fraud that's widespread that ostensibly is changing the results of the election, and we continue to get them tossed out of court.
Specifically, on the subject of voter fraud, Ford said:
They continue to complain about dead people and/or people who have signed affidavits, but they've not filed a complaint with my office. They continue to operate through the media, as a PR stunt to blow up my timeline on Twitter, to make it appear as though we're not doing our job, when the fact is they have not presented a complaint with us that we can even verify, let alone investigate. We're confident in the results of our election.
You can watch Ford's interview here:
Highlight: Nevada AG @AaronDFordNV on Trump campaign lawsuits: "They continue to come with frivolous, baseless claims of speculation about voter fraud that's widespread. ... We continue to get them tossed out of court because, in fact, they are speculative." Full interview: pic.twitter.com/XczL6l81lC

-- Yahoo Finance (@YahooFinance) November 9, 2020
In sum, The Epoch Times is an outlier in how it describes the results of the above six states as either incomplete or contested. There have been no credible reports of widespread voter fraud, which calls into question the strength of pending litigation. And, though it's possible, recounts are unlikely to flip the outcome of the vote in either Georgia or Wisconsin.
NewsGuard, a company that uses trained journalist to rank the reliability of websites, describes theepochtimes.com as:
The website of The Epoch Times, a conservative newspaper founded by members of a spiritual group persecuted in China that has promoted misleading claims to advance an undisclosed political agenda.
According to NewsGuard the site does not maintain basic standards of accuracy and accountability. Read their full assessment here.
Lead Stories has written about The Epoch Times before. See that coverage here.