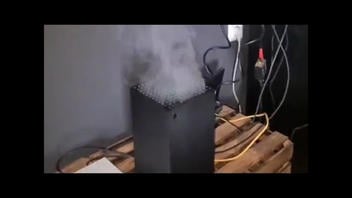 Is Microsoft investigating the claim made by some Xbox Series X owners that the console is emitting smoke from the top vent? Yes, it's true: the company is looking into the claim, even though its engineering teams haven't encountered smoking devices during the development and testing of the Xbox Series X.
The claim is implied in a video posted on YouTube November 11, 2020, titled "Xbox series X problems: the burn, loud sound and the death light" (archived here). The video's title suggests a claim that that some Xbox Series X devices are emitting smoke:
Xbox series X problems: the burn, loud sound and death light
Click below to watch the video on YouTube:
No one directly states in the 1:46-minute video that the device began smoking after normal use, but it is strongly implied. The video depicts apparent scenarios of normal use, such as turning the device off and on, and then cuts to various shots of smoke-emitting consoles. A man begins speaking at the 1:14-minute mark in the video. (He is the only person to speak in the video, and no one's face is shown.) The man speaks off-camera, with the video only showing a computer screen:
"I have no idea what to do," he says. "So, here it is. I hooked it up. Everything seemed fine, and now I've been stuck on the screen for about 10 minutes. I can move the cursor around, but I can't sign in. I can't do anything."
At the 1:32-minute mark, the man says, "I tried shutting the console off at one point and turning it back on, and it blinks here for a bit. And like the screen sort of powers down, but it sort of doesn't. God dang it!"
An Xbox console is shown, but it is not smoking
Claims of the smoking Xboxes began swirling online shortly after the devices were released November 10, 2020. A company official told Lead Stories in a November 11, 2020, email, on condition of not being identified by name, that "our engineering teams have not observed the scenario depicted in these videos either in development or in our testing processes, including thousands of consoles we've been testing for over a year." Still, the company is investigating the claim.
"We take all product safety reports seriously and our products meet or exceed industry standards," says a company statement the Microsoft spokesperson emailed to Lead Stories. "Findings from our initial investigations do not align with some of the claims being broadly reported, however we are in the process of investigating further."
Online, members of the gaming community said on social media that they believed the smoking Xboxes were a hoax, as in this Spanish-language post that says, roughly translated into English: "I leave you a MIO video explaining why the "Burned" console is Fake and how they have achieved this effect even with the console "OFF" pic.twitter.com/LfXzIBSu6N
CANSADO de las FAKE NEWS.

Os dejo un video MIO explicando porque es Fake lo de la consola "Quemada" y como han logrado este efecto incluso estando la consola "APAGADA" pic.twitter.com/LfXzIBSu6N

-- Xbox Studio (@XboxStudio) November 11, 2020
Here is a tweet in English from the same account, which also posted November 11, 2020.
For the English people: I want to show you, how, with a Vapor and turning off the console, you can make a situation that looks like the console is "On Fire"

-- Xbox Studio (@XboxStudio) November 11, 2020