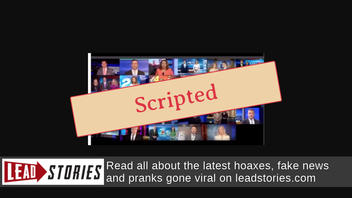 Does this video show "the media" is colluding to control a narrative by giving anchors identical scripts? No, that's not true: The video, from 2018, shows how conservative-leaning Sinclair Broadcast Group was found to be requiring its TV news anchors to recite the same promo script. These widely distributed scripts were contained to Sinclair and were not aired by anchors of other broadcast companies.
The implication that this video collage shows media collusion appeared in an Instagram post (archived here) where it was published by @mitch_aguiar, a mixed martial arts fighter, on November 15, 2020 with the hashtag: #DefundTheMedia. The caption opened:
WAKE UP AMERICA

For those of you who still don't understand what's going on and why myself and so many other Veterans and Patriots are pissed off let me help inform you. America is under attack and we can see it plain as day! The media and social media control the narrative by spreading propaganda and instilling fear so that you sheep willing give up your freedom. Pathetic! Prepare yourselves people.
This is what the post looked like at the time of posting:
This video compilation originated in 2018 when CNN chief media correspondent Brian Stelter
first revealed
that Sinclair, which owns
190 television stations
, was
requiring a number of its news anchors
to recite the same script in station promos. The Sinclair promos were just over one minute long and warned viewers about "biased and false news" from other media outlets and warned that those stories are "extremely dangerous to our democracy."
The following is the same video with more accurate context than the Instagram post: