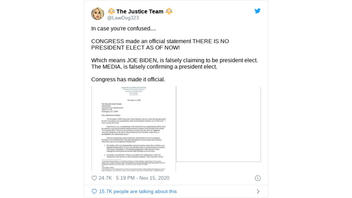 Did Congress make an official statement saying there is currently no president-elect? No, that's not true: One of the 535 members of Congress -- Rep. Jody Hice, R-Ga. -- sent a letter to the administrator of the General Services Administration (GSA), Emily Murphy, declaring Joe Biden is not yet entitled to transition services typically afforded to the incoming administration. Hice, who is the ranking Republican on the House Subcommittee on Government Operations, was responding to an earlier letter sent to Murphy by three House Democrats demanding that she explain why she is withholding transition office space, funding and information.
The claim appeared in a tweet (archived here) published by @LawDog323 on November 16, 2020 with the caption:
In case you're confused.... CONGRESS made an official statement THERE IS NO PRESIDENT ELECT AS OF NOW! Which means JOE BIDEN, is falsely claiming to be president elect. The MEDIA, is falsely confirming a president elect. Congress has made it official.
This is what the post looked like on Twitter at the time of writing:
(Source: Twitter screenshot taken on Mon Nov 16 14:54:20 2020 UTC)
The letters were sent to Murphy, a Trump appointee, because in her role as administrator of the GSA, she must formally recognize President-elect Biden for the transfer of power to begin, according to the Presidential Transition Act of 1963. Once the administrator certifies the president-elect, a government-funded transfer can begin, giving the president-elect more access and information. At the time of this writing, Murphy has yet to accept the results of the election, which is inconsistent with past practice.
On November 9, 2020, two days after provisional vote counts showed Biden would win the 270 electoral college votes needed to win the presidency, Reps. Bill Pascrell, D-N.J.; Gerry Connolly, D-Va.; and Dina Titus D-Nev. wrote a letter to Murphy giving her a deadline of November 11 to explain why she hadn't certified that Biden won the election. Murphy did not meet the Democrats' deadline.
Then came the November 13 letter from Hice that is now being misinterpreted on Twitter. The letter starts:
On November 9, 2020, Democratic House Members sent you a letter that misrepresented the facts surrounding your responsibilities under the Presidential Transition Act of 1963 (Act).1 I write to correct the record.
And the letter includes this line:
According to Congressional intent and past precedent set by President Clinton, as of today, there is no apparent President-Elect.
This letter is merely a response from the ranking Republican member of a House subcommittee to the Democrats' earlier letter to Murphy, not an official statement from Congress as a whole.