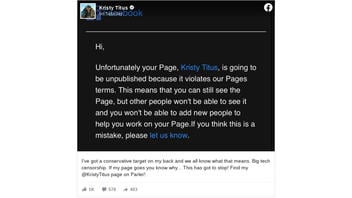 Did Facebook send out a warning that someone's Facebook page was about to be unpublished because it violates their terms? No, that's not true: This is a phishing scam. The notice was sent by an imposter posing as Facebook. The goal of this scam is to trick someone into sharing their login information. Once the baddie has the login information, they can take over the page.
The claim appeared in a post (archived here) published by Kristy Titus on November 14, 2020. The post caption said:
"I've got a conservative target on my back and we all know what that means. Big tech censorship. If my page goes you know why... This has got to stop! Find my @KristyTitus page on Parler!"
The text in the screenshot she shared said:
Hi,
Unfortunately your Page, Kristy Titus, is going to be unpublished because it violates our Pages terms. This means that you can still see the Page, but other people won't be able to see it and you won't be able to add new people to help you work on your Page.If you think this is a mistake, please let us know.
This is what the post looked like on Facebook at the time of writing:
(Source: Facebook screenshot taken on Mon Nov 16 16:01:54 2020 UTC)
The exact text and format of this warning has been exposed as a phishing scam that has been circulating since at least August 2020. A common phishing tactic is to make a person feel panicked, in this case to say they have violated the terms, and that their page will be unpublished. This tactic is mentioned in Facebook's help center warning about phishing. There is also a warning about being very careful to look at the email address that sends a notice like this.
One copy of the scam email Lead Stories found (here) originated from notifypages.com, another fake came from mailfacebook.com which is very close to a real Facebook email address: facebookmail.com.

The Facebook Help Center page on phishing says:
How do I avoid getting phished?



Look out for suspicious emails or messages

Don't trust messages demanding money, offering gifts or threatening to delete or ban your Facebook account.
Emails from Facebook about your account always come from fb.com, facebook.com or facebookmail.com. You can always visit www.facebook.com or open your Facebook app to check for important messages from us.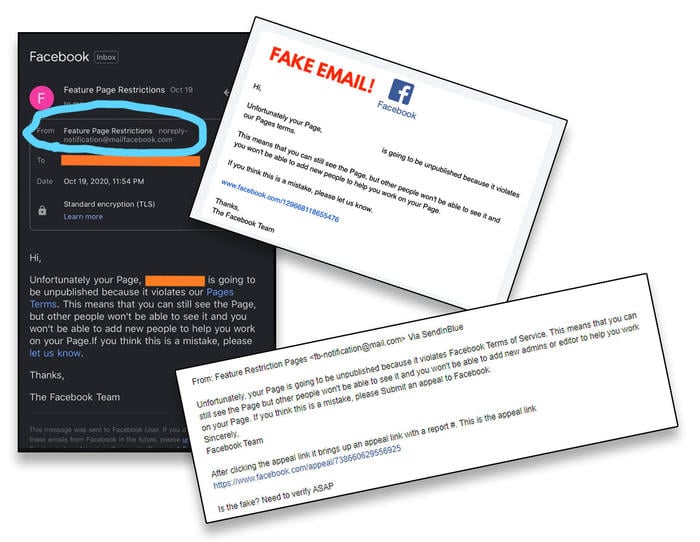 An October 19, 2020, post from the page "Philippine Hacking University" includes some informative screenshots from when they investigated this scam, showing the stages a person could encounter. Clicking the link in the fake email to appeal the unpublishing of their page takes the page manager through a very convincing process. This version of the scam includes specific details about the "violation of terms" that the page owner has committed -- an alleged copyright violation of someone's intellectual property. The appeals process includes a false login page and even includes a prompt that two-factor authentication codes is required.
Screenshots of the Phishing Scam shared on Facebook by 'Philippine Hacking University'
The Facebook Help Center page on phishing has more information for people who may be concerned that their account may be compromised.
(Editors' Note: Facebook is a client of Lead Stories, which is a third-party fact checker for the social media platform. On our About page, you will find the following information:
Since February 2019 we are actively part of Facebook's partnership with third party fact checkers. Under the terms of this partnership we get access to listings of content that has been flagged as potentially false by Facebook's systems or its users and we can decide independently if we want to fact check it or not. In addition to this we can enter our fact checks into a tool provided by Facebook and Facebook then uses our data to help slow down the spread of false information on its platform. Facebook pays us to perform this service for them but they have no say or influence over what we fact check or what our conclusions are, nor do they want to.)