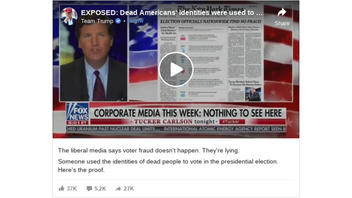 Did dead people vote in Georgia in the 2020 presidential election, providing evidence of fraud? No, that's not true: Of the four main cases mentioned, just one looks like an instance of potential fraud. Officials in the three other cases told Lead Stories they did not believe any unlawful activity took place. They provided explanations for each case.
The claim appeared in a Facebook post (archived here) published by "Team Trump" on November 12, 2020. The post was a clip from Fox News host Tucker Carlson. Titled "EXPOSED: Dead Americans' identities were used to vote in the election," it read:
The liberal media says voter fraud doesn't happen. They're lying. Someone used the identities of dead people to vote in the presidential election. Here's the proof.
This is what the post looked like at the time of writing:
(Source: Facebook screenshot taken on Tue Nov 17 21:20:23 2020 UTC)
In the clip, Carlson said:
Right now, fewer than 15,000 votes separate Donald Trump from Joe Biden in the state of Georgia. It's close enough that it's worth getting specific about what happened there.
He then got specific, detailing four cases, starting with that of Deborah Jean Christiansen of Roswell, Georgia. Carlson said:
Those who knew her were sad when she died last May, and they might be surprised to learn that even after her death, Deborah Jean Christiansen still managed to register to vote and then cast a ballot, presumably for Joe Biden.
Roswell is in Fulton County, the largest county in Georgia, which was a major battleground state in the 2020 election. A spokeswoman for the county dismissed Carlson's claim. Jessica Corbitt wrote:
We do have a record of voter Deborah Christiansen. Ms. Christiansen registered to vote in Fulton County in 2004. Our records reflect her voter history prior to her death, with her last vote cast in 2018. Her voter registration was canceled in 2019 through the normal process of database checks with vital records. We do not have a new voter registration on file for Ms. Christiansen, nor do we have any record of mailing her an absentee ballot for the November 3 General Election. With the information currently available to us, any claims of fraudulent participation in the November 3 General Election in Ms. Christiansen's name appear to be false.
Next, Carlson cited the case of James Blalock of Covington, Georgia, saying:
Mr. Blalock was a mailman for 33 years until he passed away in 2006. Fourteen years later, according to state records, he was still mailing things. James Blalock cast a ballot in last week's election.
That's not true. In fact, Carlson himself later apologized for the mistake. You can watch his apology here:
Tucker Carlson issues a correction and gives an apology after falsely claiming that a deceased individual had voted in Georgia.

He goes on to assert that he was correct, however, about other dead voters even though the other report he mentioned was debunked as well. pic.twitter.com/wXTFWFRIUK

-- Mikael Thalen (@MikaelThalen) November 14, 2020
What happened was that Blalock's widow voted under the name Mrs. James E. Blalock, Jr. Her husband passed away in 2006 and was purged from the voter database that same year.
Officials in Newton County released a statement explaining the case. It read, in part:
The Secretary of State's database does not pick up the pre-fix of Mrs., and a check in her profile shows she is a female. Her signature on the records reflects that her voter registration was signed as Mrs. James E. Blalock, Jr. and that is exactly how she signed her name when she voted in the Nov. 3 General Election.

Newton County conducts its elections and voter registration efforts with transparency and attention to detail and hopes that any reporting on this or any other election to be done the same level of fact-checking and accurate information.
11Alive News tracked down Agnes Blalock, James Blalock's widow. She told the Atlanta station that her husband, a World War II veteran, was the "best man I ever knew." Watch the 11Alive report here:
The full story:https://t.co/n9dLA70jJB

-- Brendan Keefe (@BrendanKeefe) November 13, 2020
Third, Carlson discussed the case of Linda Kesler of Nicholson, Georgia. He said:
Linda Kesler died in 2003. Seventeen years later, she was still voting in presidential elections.
That's not true, either. Jackson County Elections Director Jennifer Logan explained the reported case was a mix-up. She wrote to Lead Stories:
Linda Kesler from Nicholson was removed from voter rolls in 2003-Deceased.

Lynda Kesler of Jefferson--different address, birthdate, social did vote as she is entitled to!
As his fourth example, Carlson cited the case of Edward Skwiot of Trenton, Georgia. He said:
When he died five years ago at the age of 82, it seemed like he was gone from this world for good. But, no, last week he voted for president.
Indeed, this case could be a case of potential fraud. It was turned over to the local sheriff's office and the Georgia secretary of state, according to a woman who answered the phone at the Dade County Board of Elections, and Ted Rumley, county executive. We reached out to the sheriff's office and the secretary of state for comment on this story. We will update, as needed, once they respond.
It's worth noting that the four cases that Carlson spoke about in detail are the same four cases of potential voter fraud identified in a statement from the Trump campaign. Trump has alleged widespread voter fraud in the 2020 election, in which Joe Biden is the projected winner.
The false claims were repeated by FOX News host Sean Hannity in this segment of this show:
Hannity also made other claims previously debunked by Lead Stories, including that a "software glitch" wrongly awared 6,000 Trump votes to Biden in a Michigan county. It was human error, not a problem with the software itself, that caused the problem. Read our article Fact Check: NO Evidence Corrupted Software Was Used In Michigan; 6,000 Votes NOT 'Stolen' From Trump.