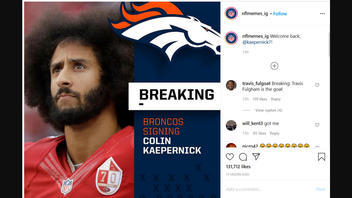 Did the Denver Broncos sign Colin Kaepernick to play quarterback on Sunday, November 29, 2020, after all of the team's quarterbacks were ordered into quarantine for COVID-19 exposure? No, that's not true: The same NFL COVID-19 protocols that benched all four of Denver's quarterbacks would also prevent Kaepernick from suiting up on short notice to play in the Bronco's game against the New Orleans Saints. It would take at least six days for an inactive player to go through testing and other processes needed to take the field.
The claim appeared in a meme in a post (archived here) shared on Instagram on Saturday, November 28, 2020. It read:
BREAKING - BRONCOS SIGNING COLIN KAEPERNICK
This is what the post looked like on Instagram at the time of writing: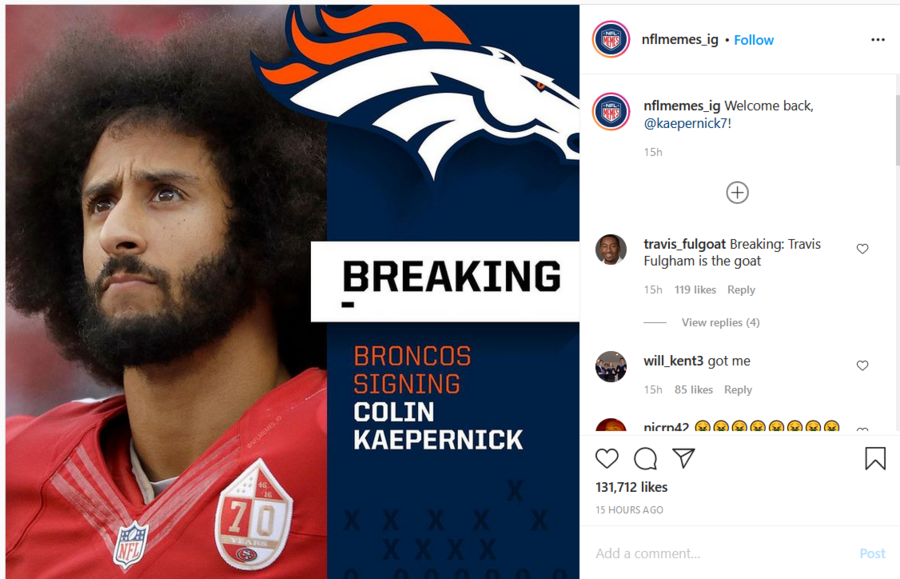 The Denver Broncos desperately need a quarterback for the Saints game at Mile High Stadium Sunday, Nov. 29, 2020. As ESPN NFL reporter Adam Schefter explained in a tweet, the team lost all four quarterbacks after backup QB Jeff Driskel tested postive for COVID-19 on November 26 and NFL contact tracers determined that starter Drew Lock, and back ups Brett Rypien and Blake Bortles, were all exposed to close contact with Driskel without masks.
Here's how Denver got wiped out at the QB position in a 72-hour span:

QB Jeff Driskel tested positive for COVID on Thursday.

Drew Lock, Brett Rypien and Blake Bortles did not wear masks, per a source, and were deemed high-risk close contacts today. They now are out Sunday.

-- Adam Schefter (@AdamSchefter) November 28, 2020
Coaches began considering their offensive options, including moving another player with college quarterbacking experience or just having a running back take snaps directly. Bringing in a new player to the team, including Kaepernick, would not be possible in less than 24 hours.
The NFL/NFLPA COVID-19 Testing & Treatment Protocols require "multi-day tests" before a new player can even enter club facilities:
Before any player or personnel was allowed access to club facilities for training camp, they underwent multi-day tests. Only individuals that tested negative for all tests conducted were allowed to enter the club facility.
Kaepernick has been out of the league for four seasons in the wake of the controversy over his decision to kneel during the National Anthem, an action that now is uncontroversial.