STORY UPDATED: check for updates below.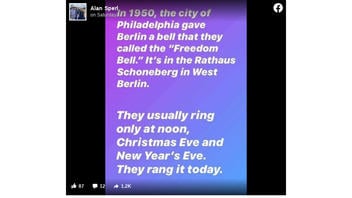 Did the Freedom Bell in Berlin's Rathaus Schoneberg ring on November 7, 2020, to celebrate Joe Biden's win in the 2020 presidential election? No, that's not true: The bell in the former city hall of West Berlin rings every day at noon and not, as claimed in several social media posts, only on German holidays. It rang at its regularly scheduled time on November 7, the bells that some residents reportedly heard had nothing to do with the U.S. presidential election.
The story quickly spread on Facebook on November 8, 2020 with several posts (archived here and here) making the claim that the bell only rings on special occasions and was heard ringing that day. The post read:
In 1950, the city of Philadelphia gave Berlin a bell that they called the "Freedom Bell." It's in the Rathaus Schoneberg in West Berlin.

They usually ring only at noon, Christmas Eve and New Year's Eve. They rang it today.
This is what the post looked like on Facebook at the time of writing:
(Source: Facebook screenshot taken on Mon Nov 9 11:29:04 2020 UTC)
The claim seems to have originated from a tweet by Twitter user @Tim_Maloy earlier the same day in response to user @RNicholasBurns's tweet reporting an enthusiastic response to the election results across Europe and the World. The tweet read:
Hey @RNicholasBurns, as a Resident, who lives right behind Rathaus Schöneberg in #Berlin, I can confirm the "Freiheitsglocke" (freedom bell) was ringing after #BidenHarris were confirmed. The bell was gifted from the city of Philadelphia after WWII. Time of hope, indeed
Lead Stories reached out to the Bezirksamt Schoneberg on November 9, the district office residing in Rathaus Schoneberg. Their press office confirmed that the bell rang only at its regularly scheduled time on November 7, 2020 and did not ring again later the same day when the election results were announced.
The Freedom Bell (in German, Freiheitsglocke) was a gift from the U.S. to the city of West Berlin. It was installed in the belltower of Rathaus Schoneberg on October 24, 1950. The 10-ton "Bell of Freedom and Peace" is a replica of the Liberty Bell and inscribed with a quote from Abraham Lincoln's Gettysburg Address that reads: "That this world under God shall have a new birth of Freedom."
Apart from its regular time at noon every day, the bell also rings on Christmas Eve, May 1st, and at midnight on New Year's Eve. It also rang to commemorate a number of historical events such as the construction of the Berlin Wall in 1961, German reunification in 1990 and the September 11 attacks in 2001.
2020-11-09T17:03:06Z

2020-11-09T17:03:06Z

Updated to correct the spelling of Schoneberg.