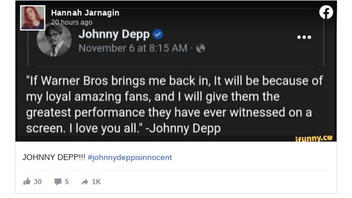 Did Johnny Depp say Warner Bros. would bring him "back in" if the fans asked for it after the studio forced him out of the "Fantastic Beasts" movie? No, that's not true. A viral meme shows a Tweet from Depp stating that the movie studio could let him "back in" to the movie thanks to his "loyal amazing fans." He was cut from the "Fantastic Beasts" franchise after losing his "wife beater" libel court case. In reality, the actor released a statement on his Instagram revealing the studio, Warner Bros., asked him to resign from the "Fantastic Beasts" movie and he agreed to do so. The Tweet is fake and he did not say the studio would let him back in if the fans asked for it.
The claim appeared as a post (archived here) where it was published on Facebook on November 9, 2020. It opened:
JOHNNY DEPP!!! #johnnydeppisinnocent
This is what the post looked like on Facebook at the time of writing:
(Source: Facebook screenshot taken on Tue Nov 10 19:49:01 2020 UTC)
Depp does not have a Twitter account. On the bottom right of the fake Tweet is a logo that says ifunny.com -- a website with funny memes.
The fake tweet read:
"If Warner Bros brings me back in, it will be because of my loyal amazing fans, and I will give them the greatest performance I've ever witnessed on screen. I love you all." - Johnny Depp
He does have a verified Instagram account where he posted a message to his followers on November 6, 2020 about leaving the Fantastic Beasts franchise.
BBC News reported the case outcome in an article titled, "Johnny Depp loses libel case over Sun 'wife beater' claim." Depp filed a lawsuit against the Sun tabloid newspaper over an article that called him a "wife beater." The newspaper claimed he assaulted his ex-wife Amber Heard, an allegation he denied. The judge ruled in favor of the tabloid, saying the Sun had proven their article was "substantially true."
Depp posted a message to his fans in letter form on November 6, 2020.
Variety reported that Warner Bros. fired Depp from the "Fantastic Beasts" movie and noted that Depp's attorneys said they planned to file an appeal.