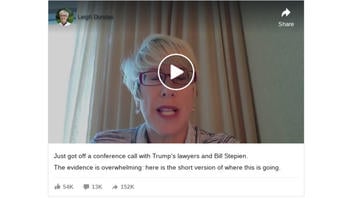 Does a list show over 14,000 dead people voted in the 2020 presidential election in Wayne County, Michigan? No, that's not true. A video on Facebook claims there is a list showing over 14,000 dead people that either voted or registered to vote in the county where Detroit is located. Not all of the people on the list are Wayne County residents, several of them did not receive or vote with an absentee ballot and at least one person on the list is alive. There is no evidence that ballots were counted by Michigan clerks that were fraudulently filed on behalf of dead people.
The claim appeared in a post (archived here) where it was published by Leigh Dundas Facebook on November 7, 2020. It opened:
Just got off a conference call with Trump's lawyers and Bill Stepien.
The evidence is overwhelming: here is the short version of where this is going.
This is what the post looked like on Facebook at the time of writing:
(Source: Facebook screenshot taken on Mon Nov 9 21:58:24 2020 UTC)
Dundas' video was shared multiple times on social media, including on Facebook by rock guitarist Ted Nugent's wife Shemane Nugent, and on YouTube.
In the video, beginning at 7:13, Dundas claims she is quoting an article that says, "Here is a list of over 14,000 dead people who either voted in Wayne County, Detroit or were registered to vote."
There is a tweet that claimed the same thing, posted by Phocaean Dionysius on November 5, 2020.
Here is a list of 14+ thousand dead people who voted in Wayne County (Detroit): https://t.co/qbdeHhcemU

Here is the website where you can verify it: https://t.co/9DhgllewyB

#23 CLAUDIA,MILLER,1918,48234 (You have to guess-check the month of birth)

Go try it out. pic.twitter.com/Yi0E7fGXFP

-- Phocaean Dionysius (@PhocaeanD) November 6, 2020
The link on Pastebin.com is no longer active and only shows a message that says, "This page is no longer available. It has either expired, been removed by its creator, or removed by one of the Pastebin staff."
The Michigan Secretary of State posted information stating "Deceased voters' ballots are not counted," on their website on the "Fact Check" page:
Deceased voters' ballots are not counted
Ballots of voters who have died are rejected in Michigan, even if the voter cast an absentee ballot and then died before Election Day. On rare occasions, a ballot received for a living voter may be recorded in a way that makes it appear as if the voter is dead. This can be because of voters with similar names, where the ballot is accidentally recorded as voted by John Smith Sr when it was actually voted by John Smith Jr; or because of inaccurately recorded birth dates in the qualified voter file; for example, someone born in 1990 accidentally recorded as born in 1890. In such scenarios, no one ineligible has actually voted, and there is no impact on the outcome of the election. Local clerks can correct the issue when it is brought to their attention.

The claim about the votes was originally made on Twitter but has been debunked by PolitiFact and USA Today.
PolitiFact viewed the list when they published their fact-check titled, "List does not show over 14,000 dead people cast ballots in Michigan's Wayne County," on November 6, 2020 and labelled the claim "False."
The fact-checking website noted several things that were untrue on the list.
The voters listed were over the age of 100 but several were not marked in Michigan's voter information center and not all were Wayne County residents."

PolitiFact Michigan spoke with Imo Oliver, of Ypsilanti, a woman who was on the list of dead voters, but she was a living, breathing voter.
She was an elderly woman who said she suffered from memory loss, but she said her son assisted her to vote in this election."